Posted 5th June 2020 | 2 Comments
Finally wired up: Severn tunnel electrification is energised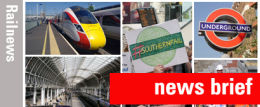 A LONG battle by engineers to electrify the Severn tunnel between England and Wales has been won at last, completing the electrification of the Great Western Main Line between London and Cardiff (Caerdydd). The 6.5km tunnel has always been a difficult part of the railway to manage, partly because more than 63 million litres of water have to be drained from the interior of the tunnel every 24 hours. The first installation of overhead equipment did not last long because some of the components proved to be deteriorating within months rather than their predicted life of 25 years. Network Rail managing director for the Western route Mark Langman said: 'It has been a hugely complex task to electrify the tunnel but I'm thrilled that the final piece of the puzzle is now complete.' Transport secretary in the Welsh Government, Ken Skates, described the breakthrough as 'welcome news', but he also renewed calls for more investment in Welsh railways. He said: 'I hope that the completion of this work can be taken as a strong signal of intent from Network Rail and the UK Government that there is more investment to come to improve journey times and capacity across South Wales in the future, including electrification westwards beyond Cardiff.'
Reader Comments:
Views expressed in submitted comments are that of the author, and not necessarily shared by Railnews.
So what lifespan can we expect now, 2.5 years?

And out of curiosity, instead of pumping 63 million litres of fresh water/day back into the Severn, couldn't it be sold off to a water company? Or should Network Rail get into the water supply or bottling business themselves?