Posted 2nd June 2020 | 2 Comments
RMT threatens strikes over 'Guardian Angels' plan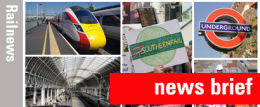 THE RMT has warned of possible industrial action in protest at a government plan for unpaid volunteers to help guide railway passengers and prevent overcrowding at stations.
The union said its members had reported seeing advertisements inviting people to help, and RMT general secretary Mick Cash warned that his union was 'furious'.
In a letter to members he wrote: 'Passengers should not be relying on volunteers and would be much safer in the knowledge that the person assisting them is a fully trained station staff member. These plans are not only a concern for our members' job security, but also the health and safety of the entire railway industry.'
In a public statement he added: 'I have today written to the transport secretary Grant Shapps demanding that his department immediately withdraws from this ill-advised collaboration. RMT regards this as a deliberate provocation and we will fight this with everything at our disposal including balloting our members for strike action.'
The Department for Transport has responded: 'These volunteers will play a crucial supporting role in keeping people moving by easing crowding and providing advice to help maintain social distancing, protecting passengers and tackling the spread of the virus.
'We are clear these volunteers will not be performing any tasks or roles that vital frontline staff are trained to carry out, and they will be deployed at key stations in the short term when the easing of lockdown restrictions could see the increased use of public transport.'
Reader Comments:
Views expressed in submitted comments are that of the author, and not necessarily shared by Railnews.
One minute he's complaining about his members being exposed to potential Covid-19 carriers, the next he's complaining about something that might reduce that risk.
What next - RMT threatens strike over scent of anti-viral spray?
RMT threatens strike over the weather?
And is writing a letter "demanding" something the way to open a discussion on an issue?
I think it's long past time old dinosaurs like Mr Cash retired.