Posted 18th May 2020 | 2 Comments
18 May: news in brief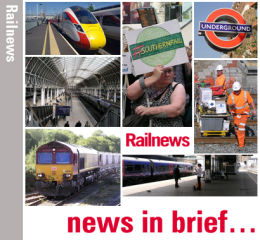 More trains, but distancing concerns remain
THE number of trains running on many lines has been increased in England, but warnings remain about the need for social distancing. Train companies have been working to tape off some seats to maintain space between passengers, while social distancing markers have been installed at many stations. Some ticket gates have also been taped out of use. The core message remains the same: workers should only start commuting again if they must, and even then avoid public transport if they can. The RMT is against any easing of travel restrictions yet, and has voiced fresh concerns about the safety of staff and passengers. The union has called for compulsory face masks and enforcement of social distancing.
Reader Comments:
Views expressed in submitted comments are that of the author, and not necessarily shared by Railnews.
I'm out early for a walk every day in my local Hills where I look down on the Great Western Main Line as it winds its way through the Thames Valley. I am amazed at the number of Container Trains which also seem very well loaded at around 90% of space available. It seems as if the Covid Crisis hasn't hit them at all. But no cars or people walking to the local Railway Stations. I always thought that Passenger Railways were so essential to our way of living, that I'm surprised that so many people have learnt to live without them by working at home. I wonder if the Rail Unions also recognise that their power to 'hold the Country to ransom' has also disappeared. If the County can work around today's problems by avoiding rail journeys they can work around any strike as well. I really have no idea what the future holds for any mode of transport but Air Travel and Mass Transit Systems seem the worst hit of any Industries. Some very radical thought needs on all of their Futures. But I'm sure it will never be 'Business as usual'.