Posted 12th May 2020 | No Comments
12 May: news in brief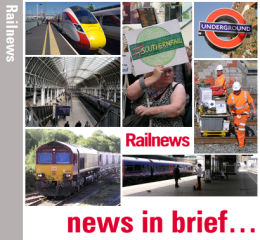 Alstom cancels dividend in reaction to crisis
THERE will be no payout for shareholders at Alstom this summer, after the board voted not to propose a dividend at the next shareholders'.meeting on 8 July. The company described the move as an 'exceptional measure', which had been decided on 'in the context of the current crisis, and in a spirit of responsibility towards all its stakeholders'. However, Alstom pointed out in its newly-published full year results for 2019-20 that it has 'strong commercial momentum', with an order book worth €9.9 billion. It added that there are 'strong rail market fundamentals driven by sustainable transport needs'. Chairman and CEO Henri Poupart-Lafarge said: 'The end of the fiscal year was marked by the unprecedented Covid-19 crisis. Alstom considers the health and safety of its employees and stakeholders as its top priority during this period. We are confident for the resilience of Alstom's business in the mid-term, given the fundamentals of the rail market.' Alstom is continuing with its takeover of Bombardier, and expects to complete the deal in the first half of next year.
Gatwick Airport station modernisation to pick up pace next week
THE next stage of the £150 million project to modernise Gatwick Airport station will begin next week, said Network Rail, which has paid tribute to 'innovative ways of working' within Covid-19 social distancing safeguards. Enabling works have continued, and Platform 7 will close on 17 May so that construction of the new and much larger station concourse can begin. The upgraded station is due to open in 2023.
Have Your Say