Posted 17th April 2020 | No Comments
17 April: news in brief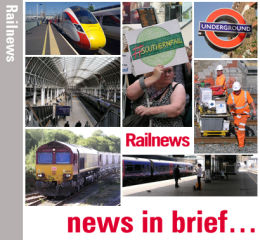 Greater Anglia closes more ticket offices
MORE Greater Anglia ticket offices are being closed from Sunday until further notice because passenger numbers have fallen by over 90 per cent, the company said. A total of 34 additional stations will now lose their ticket offices for the time being, and opening hours are being reduced at another seven. The test has been whether offices are selling at least 20 tickets a day, although a handful which sell fewer than this but are near large hospitals will not be closed. Greater Anglia added that all its stations will be staying open.
Tamar rail bridge illuminated to celebrate NHS
THE historic Royal Albert Bridge which links Devon and Cornwall by carrying the Great Western main line was lit up last night as part of the now-established Thursday evening ceremonies to thank the staff of the NHS for their courageous work. While millions of people around the country clapped, Brunel's structure across the Tamar was lit up as part of the celebrations, along with the parallel road bridge. The Royal Albert Bridge was opened in 1859, and is named after Queen Victoria's husband, the Prince Consort. It is one of two railway bridges which connect Devon and Cornwall. The other is Calstock viaduct, which is further up the river on the Tamar Valley line from Plymouth and Bere Alston in Devon to Calstock and Gunnislake in Cornwall.