Posted 6th April 2020 | No Comments
6 April: news in brief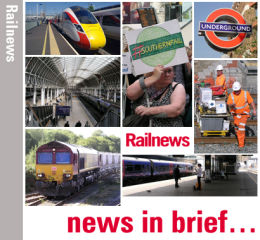 West Midlands Railway axes trains
WEST MIDLANDS RAILWAY is replacing its train services between Worcester and Hereford with buses from today. The operator says passenger numbers are continuing to fall while more WMR staff are self-isolating. The stations which now have no WMR trains until further notice are Hereford, Ledbury, Colwall, Great Malvern and Malvern Link. WMR said the coronavirus emergency meant it was 'no longer possible' to maintain train services at all stations on its network.
GWR helps with home learning
CHILDREN who are being educated at home during the present emergency now have a chance to learn more about the Great Western Railway, because GWR has launched an education scheme known as #EnterTrainment. GWR said it was intended to inspire children who can't go to school for the time being, and includes interactive documentary videos about the history of the railway and the South West as well as downloadable colouring sheets from GWR's Iron Horses of the West book and a social media build-a-train competition. More items, such as word searches and quizzes, are to be added soon.

Yorkshire consultation extended
NETWORK RAIL has extended the time allowed for a local consultation in West Yorkshire about forthcoming improvements to the railway between Dewsbury and Huddersfield, which are part of the wider TransPennine upgrade project. This is the second stage of consultation on this part of the project and Network Rail had planned a series of public events about its plans, but these events have been cancelled because of the coronavirus restrictions. Network Rail said the extension, of almost three weeks, is to allow everyone enough time to review the proposals in detail. The consultation now runs until 30 April.