Posted 9th March 2020 | 3 Comments
London Euston disruption after weekend wire damage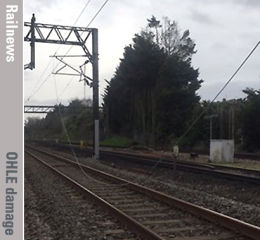 Updated 10 March, 08.50

TRAIN services are still being disrupted at London Euston this morning, after a kilometre of overhead line was brought down on Saturday between North Wembley and South Kenton stations on the West Coast Main Line.
However, it is expected that normal services will return at about 13.00 today.
Repairs took longer than usual because of the extent of the damage, and were being carried out each night. London Euston was closed between 21.00 and 06.00 so that engineers could have the access they need.
James Dean is director for the West Coast Mainline South route of Network Rail.
After news of the damage broke, he said: 'Repairing 1,000 metres of wires is a significant job, which is why we need to stop trains running earlier than usual this evening to allow our engineers to do their work and minimise disruption to passenger services.'
Reader Comments:
Views expressed in submitted comments are that of the author, and not necessarily shared by Railnews.
What is the problem? I lived in Germany for nearly five years, commuting from Augsburg to Munich daily. I do not remember a single incidence of an overhead line problem. Only thick fog and one occasion of heavy icing caused delays.
[The comparison is probably flawed. The West Coast Main Line is very heavily used, and OHLE, like everything else, presumably wears out more quickly. We rarely hear of OHLE failures on the electrified Harwich branch in Essex, for example.--Ed.]

(Comment deleted by moderator. Reason: breach of Guidance Note 3.)