Posted 10th January 2020 | 4 Comments
DB Cargo fined £1.2m for electrocuted trespasser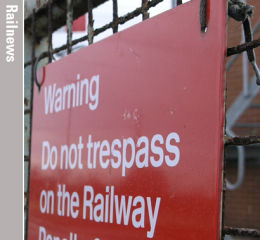 DB CARGO has been fined £1.2 million with £27,873.03 costs after a trespassing 13-year old boy suffered serious injuries from electrocution at Bescot freight terminal on 1 June 2017.
He and two other boys of the same age had climbed on to the roof of a wagon, and the boy received 40 per cent burns from the overhead 25kV line. A second boy had burns on one hand and broke his arm.
Wolverhampton Magistrates' Court was told that the three had entered the site by using a hole in a fence which divided the yard from playing fields. Evidence was also given that DB Cargo had been aware of no fewer than 35 incidents of trespass recorded during the five years since July 2012, and youths had been seen 'clambering' on a locomotive just a few days before the electrocution.
DB Cargo (UK) Ltd had pleaded guilty on 31 October last year to one charge brought by the Office of Rail and Road under health and safety legislation, and was sentenced by District Judge Wheeler on 9 January.
Chief inspector of railways Ian Prosser expressed sympathy for the injured boys and their families, adding: 'We welcome the sentence which shows the seriousness with which the court has taken this case, and we expect the rail industry to make sure their sites are secure and minimise the chances of a repeat of this incident.
'We hope this acts as a reminder to adults and children to stay off railway sites, which can be very dangerous places.'
Reader Comments:
Views expressed in submitted comments are that of the author, and not necessarily shared by Railnews.
It may or may not seem ridiculous but it is the law, following the Occupiers' Liability Act of 1984. This in turn followed the important Herrington case which involved British Rail Essentially it means that when a landowner has knowledge of actual danger existing on his land, he has a duty of care sometimes described as a "duty of common humanity".

Prior to Herrington the BRB was able to deny responsibility, since s68 of the RCCA only deals with rights and obligations as between the railway company and the landowner, and said nothing about trespassers.

[It is quite true that the 1845 Act was concerned with an obligation to provide fences to prevent farm animals straying on to the railway, but there is case law long before 1984 which can make the railway responsible if trespassers come to grief. See, for example, Cooke v Midland Great Western Railway of Ireland, 1909. The company knew that children entered its property through a defective fence to play on a turntable, and was found liable when one of them was hurt.--Ed.]

This is just ridiculous isn't it? A young fool breaks into a railway yard, climbs on a train and touches an overhead wire.... yet it's not his fault and he deserves sympathy. Only in Britain.

[Not as simple as that. Briefly, an occupier of railway land containing hazards has a duty to keep boundary fences in good repair, especially if the occupier knows that there had been previous incidents of trespass (which there had). This legal principle of providing fences goes back to 1845 at least (see Railways' Clauses Act 1845 [s68]). For a fuller discussion see Hot Topic in the forthcoming February print edition of Railnews, published 6 February.--Ed.]

Why is it DB Cargos fault when the boys were trespassing? Surely its their own fault?