Posted 11th December 2019 | 2 Comments
New Greater Anglia Bombardier trains delayed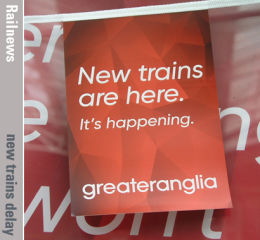 Updated 13 Dec.

NEW trains for Greater Anglia will be late arriving, because their manufacturer Bombardier has reportedly encountered software problems.
If so, it will not the first time recently that trains from Bombardier have been delayed for this reason. Software problems have also affected the delivery of new trains for London Overground and Crossrail, although these earlier difficulties have been resolved.
The latest hitch at Derby means that the first of 111 electric trains for Greater Anglia suburban routes are no longer expected in the New Year. Instead, Bombardier has estimated that the first examples of the new fleet will not be seen until the spring.
The train builder said: 'The delay has been caused by a range of factors and we are working closely with Greater Anglia to ensure the effect of the delay is minimised.'
Greater Anglia said that Bombardier had 'assured us that production is being ramped up, with extra staff at the Derby factory so that our customers can benefit from these state-of-the-art trains as quickly as possible'.
Greater Anglia is replacing its entire fleet with new trains. Stadler has already been delivering bi-mode and electric versions for the Norwich to London main line, Stansted Express and regional and local services in East Anglia, and they have been entering service since the late summer.

However, Class 755 Stadler units have been encountering problems of their own. Inquiries are under way into various incidents, including signalling difficulties and a near miss at a level crossing between Norwich and Cromer.

Reader Comments:
Views expressed in submitted comments are that of the author, and not necessarily shared by Railnews.
I'm very surprised you haven't mentioned the total carnage currently on GA Rural Services with the new Stadler trains. Many branches have not seen passenger trains for days and others reduced services (usually operated by heritage stock that's left) because of major sensor conflicts between the Stadler trains and infrastructure. A level crossing on the Sheringham line opened instead of closing as a train approached causing a very close near miss, and signals are mal-functioning.
Solutions have still not been found but local bus Companies are raking it in!