Posted 11th November 2019 | 2 Comments
11 November: news in brief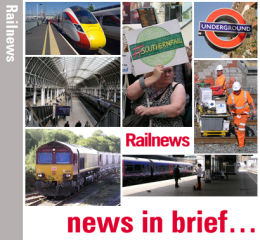 Boris Johnson is 'wary' of scrapping HS2
THE Prime Minister has warned that HS2 is 'incredibly expensive' but has also conceded that he is wary of scrapping it. A decision will be made after the Oakervee review of the scheme has been published. The review is in its final stages, although most of the civil servants involved with the work have been stood down, along with deputy chairman Lord Berkeley. Speaking to reporters in Nottingham, Mr Johnson said: 'I love infrastructure. The problem with HS2, is that it's incredibly expensive. Instinctively I hesitate as somebody who's done a lot of big infrastructure projects, and who's seen the damage that can be done to the UK by delaying big infrastructure. I hesitate before just taking something like HS2 and just putting it on the scrap heap. I think you need to look very carefully at whether there are savings to be made, whether you can do it another way round, and that's the sensible thing to do and we will have an answer in the fullness and richness and maturity of time.'
Floods still causing problems in north of England
FLOODS in the north of England are still disrupting train services on some lines. Rotherham Central will probably remain closed until tomorrow, and because roads in Rotherham have also been closed by floods there are no rail replacement buses. Trains between Scarborough and Bridlington will terminate at Hull, and Transpennine Express warned that, although its routes have reopened, trains had been left out of position. In west Wales there are no Transport for Wales trains between Clarbeston Road and Fishguard Harbour because of unsafe trees by the railway, while in Cornwall GWR restored rail services to Newquay today, after subsidence of an embankment near St Blazey closed the line two weeks ago. Network Rail engineers have built a temporary dam to divert the Par river, which runs alongside the line.
RMT to ballot Underground cleaners over pay
THE RMT is urging cleaners on London Underground who are employed by outsourcing group ABM to vote in favour of industrial action to improve their pay and conditions. The union points out that unlike Transport for London staff the cleaners do not have free travel privileges, and so must pay for their own journeys to work out of annual pay of around £19,000 a year. RMT general secretary Mick Cash said: 'It is scandalous that the people who do some of the hardest and dirtiest work on London's transport network are treated differently to other London Underground staff while the company that employs them and its top executives profit from their work. The disgrace of the two-tier workforce on London Underground is a stain on the capital city. We are balloting our cleaner members on the London Underground employed by ABM and are campaigning for strong yes vote for industrial action in their fight for equal treatment at work with regard to travel facilities, sick pay and a decent pension.'
Free travel on anniversary of Armistice
A NUMBER of train operators are offering free travel to forces personnel today, including cadets and retired soldiers, sailors and air crew, so that they can travel to commemorate the 101st anniversary of the 1918 Armistice which ended the First World War. Poppy sellers with identification are also usually being included. One of the operators involved is Northern, and a spokesman said: 'We want to acknowledge the contribution and sacrifices the armed forces have made by making it as easy as possible for people to attend events.'
Reader Comments:
Views expressed in submitted comments are that of the author, and not necessarily shared by Railnews.
Look at a map. "Trains between Scarborough and Bridlington will terminate at Hull" makes no sense.
[It was a direct quote from NRE/Northern, but maybe they meant 'Trains from Hull to Scarborough will terminate at Bridlington'?--Ed.]