Posted 24th October 2019 | 6 Comments
Union's 'outrage' at further Pacer withdrawal delays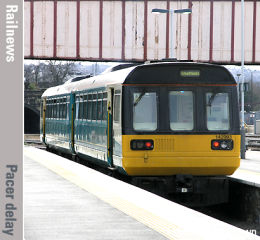 THE number of Pacers staying in service on Northern during the first few months of next year has risen, and they now include some of the older Class 142s as well. The RMT has described the decision as an 'outrage'.
The original deadline for complete withdrawal of all Pacers was 31 December this year. Northern then said in September that some of the newest Pacers, Class 144s, would stay in service until January at least, but that all would have been withdrawn by the May timetable changes.
That deadline is still expected to be kept, but more Pacers will now be staying on the rails for a while.
Rail minister Chris Heaton-Harris has admitted that more than 30 Pacers will not be withdrawn at New Year, and that some could stay until well into the spring.
In a written statement to the House of Commons on 21 October, he pointed out that the first examples of Northern's 102-strong Pacer fleet had been withdrawn in August.
He continued: 'Northern advises that, subject to receiving appropriate dispensation, up to 34 (11 Class 142 and 23 Class 144) Pacers will remain in the fleet for a short time into 2020 to cover the delay in delivery of new trains … If these trains were not allowed to continue in the fleet, then a large number of services would need to be cancelled …'
He revealed that although the 142s would stay in service only until 17 February, some of the 144s might soldier on for up to another three months after that, with a confirmed deadline for final withdrawal of 17 May.
Tighter accessibility regulations come into force on 1 January, but Northern is likely to couple the non-compliant Pacers to another unit which does meet the new requirements.
Northern said: 'As a result of further delays in the construction and delivery of our new trains from CAF, a small number of Pacers will need to be retained for a short period of time in 2020 to deliver the planned daily timetable. This situation is not unique to Northern.
'We understand that customers will be disappointed and we are finalising proposals for customer support and offers for customers on those routes on which Pacers will be used in 2020. Those proposals will need to be reviewed by the Rail North Partnership and the Department for Transport.
"From 21 October, we will have 29 of our 101 new trains in service and a further 27 are in final testing or being used for driver training.'
In a related development, GWR plans to keep eight Class 143s in service on the Barnstaple and Exmouth branches for the time being.
Meanwhile, the RMT slammed the Northern decision, and criticised the rolling stock leasing companies.
Speaking today, the union's general secretary Mick Cash said: 'It is nothing short of a scandal that 35 years after they were introduced as a stop-gap solution to a rolling stock crisis there are still private operators making a financial killing out of leasing the clapped-out and inaccessible Pacer trains back to the network. If you want to see the profiteering of rail privatisation in all its gory detail look no further than this outrage on the Northern tracks.'
Reader Comments:
Views expressed in submitted comments are that of the author, and not necessarily shared by Railnews.
The TOCs could offer a crumb to passengers, and it should be the train suppliers like CAF that should pay to fund that owing to them not meeting delivery deadlines, not passengers or taxpayers.

TfW are also now having to seek derogations for their Pacers to carry on running a bit into next year because of ongoing delays to their 769s. So technically all three companies Northern, GWR & TfW will continue running their Pacers for a short period into next year.

I suppose the options are keep the pacers for a short period of time or cancel the trains? I know what I would prefer. Perhaps there ought to be a financial penalty on on the Train operating companies for the delays but then that would just be passed onto the passengers in some way....

The last Labour Government handed the last Northern Rail franchise out in 2004, with out forcing them to replace them! Everyone knows that RMT and the Labour Party are just about the same thing! it took the Tories getting back into power to do anything about it!

I for one, is getting fed up for the Unions, never have anything good to say! Yes some people, will have to use the Pacer for a bit longer... but they will all be gone soon!

Also, please think of all the lines they saved from being closed over the years!

People pay really good money at Theme Parks to have the same sort of ride as a Pacer !! We will miss theme when they are gone. Not ideal for standing, but rather similar to an old Bus Ride. Hide on to the seat ahead. But in fairness, it was often the uneven track that gave such a poor ride.