Posted 26th September 2019 | 2 Comments
RMT to stage industrial action over tube track noise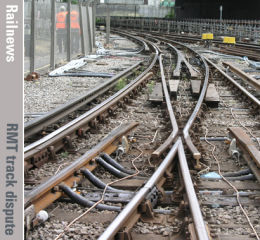 A TRACK fastening system which is alleged to be the source of excessive noise on parts of London Underground has sparked industrial action by the RMT on four deep tube lines.
Pandrol Vanguard is described by its manufacturer as 'a unique rail fastening system with very low vertical dynamic stiffness' but the effects of its use have caused concern to drivers and TfL.
On 19 July this year London Mayor Sadiq Khan told the London Assembly: 'TfL is currently trialling methods of reducing in-carriage noise, which includes under-rail pads, at priority sites. Further installation work is due to be carried out from August 2019, with assessments due to be carried out by autumn 2019.'
The RMT says since then improvements have been 'slow' and has called for temporary speed restrictions to be introduced, without success. A ballot of drivers on the Jubilee, Central, Northern and Victoria Lines has now produced a 95 per cent vote in favour of action.
As a result, from 10 October RMT members on the four lines involved 'will be instructed to drive trains in manual mode at an appropriate reduced speed to mitigate the creation of excessive noise and to alleviate the distraction, discomfort and anxiety caused in the affected areas'.
RMT general secretary Mick Cash said: 'It is appalling that RMT driver members have had to resort to a programme of industrial action in order to force London Underground to take the issue of excessive track noise seriously. It should never have come to this and the blame lies solely with the employer and their failure to protect the workforce.'
Transport for London said: 'We have met the RMT on a number of occasions on the plans we have to tackle Tube noise and look forward to continuing to work with them to find a resolution. The health and safety of our staff and customers is our first priority and we have already agreed to provide a broader range of ear protection to drivers who wish to use it alongside plans for longer-term solutions to this complex issue.'
Pandrol told Railnews: 'The durability of Pandrol Vanguard as a unique rail fastening system is proven, and it has been very successful in reducing noise in buildings to acceptable levels, but London Underground reported high levels of in-car noise. The increase was greater than would be expected as a result of lower track stiffness, and is a result of increased rail roughness.
'Pandrol has worked with the Underground with the aim of modifying the Vanguard assembly to increase its stiffness, with the objective of reducing in-car noise but without increasing ground vibration back to the level where complaints from neighbours began to reappear. A simple modification was developed and has been installed and tested. It reduced in-car noise by 3dB, without increasing building vibration above acceptable levels. Pandrol will continue to work with London Underground to optimise the rail fastenings it supplies.'
Reader Comments:
Views expressed in submitted comments are that of the author, and not necessarily shared by Railnews.
London tube trains are far too noisy,wheels squeak over track ,i travel on the Paris Metro where some lines have rubber tyres on the stock and ones that don't have far less noise,mind you the Metro being sub surface helps.

Will bring a whole new meaning to going on a go slow ...

I notice how noisy the Jubilee Line extension is and wonder if their is any difference between tunnels lined with concrete rings compared to old sections lined with cast iron rings ?

A documentary about Crossrail mentioned how track beneath The Barbican Centre is know as " floating track " and is supposed to reduce noise .