Posted 20th August 2019 | 2 Comments
20 August: news in brief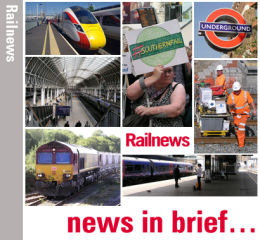 Franchising is 'set to continue' according to industry chief
THE future of franchising is likely to change, but not be scrapped, according to Abellio UK managing director Dominic Booth. His company took over the East Midlands franchise on Sunday and held an official launch yesterday, and the contract may be the last involving the traditional model of risk and reward, although no details have been given. The West Coast Partnership has been awarded to a consortium of FirstGroup and Trenitalia, and starts on 8 December. However, it involves some changes, according to Steve Montgomery of FirstGroup. Mr Booth, meanwhile, is expecting the forthcoming Williams review to confirm that franchising will continue. He said: 'I think we're pretty confident that successive governments over many years have seen the value of that public/private partnership and what Williams wants to do is bring that up to date and iron out some of the wrinkles in it, but not abandon it.' The East Midlands Railway franchise involves the replacement of the Class 222 Meridians and the last 12 HSTs with a fleet of new bi mode Hitachi trains, while the diesels on other routes will also be replaced by newer, cascaded units from next year.
Reader Comments:
Views expressed in submitted comments are that of the author, and not necessarily shared by Railnews.
I wouldn't mind if franchising continued on a local basis, for operations with captive markets and unavoidable monopoly.

But I had hoped we could have on - going, on - rail competition wherever feasible ( particularly longer distance / intercity ) in order to benefit fully from the claimed benefits of privatisation - enterprise , innovation and long termist investment.