Posted 14th August 2019 | 2 Comments
Crucial RPI figure revealed ahead of fare increases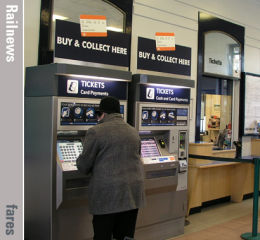 THE Retail Prices Index for July this year was 2.8 per cent, and the figure is due to be used by the government to set the next increase in regulated fares in January.
Transport Focus director David Sidebottom said: 'After a year of more stable – but still patchy – rail performance many rail passengers will be mystified that rail fares should be going up at all, let alone by 2.8 per cent next January.
'The National Rail Passenger Survey shows that less than one third (30 per cent) of rail commuters are satisfied with the value for money of their ticket. Transport Focus believes it's time for a fairer, clearer fares formula based on calculations that use the Consumer Prices Index, rather than the discredited Retail Price Index.
'After recent disruption and a lot of misery over last winter, rail operators still have a great deal to improve.'
But the prospective rise has also attracted harsher criticism. Labour shadow transport secretary Andy McDonald said: 'Every year, commuters are being asked to pay more money for bad train services. The government has sat back and allowed private train companies to cash in while people's pay has been held back. Continuous fare rises undermine urgent action to tackle the climate emergency by pricing people off the railways.'
TSSA general secretary Manuel Cortes added: 'We must end this rail rip off fiasco. Passengers aren't stupid. They know that they're paying more and getting less, year on year. Now that the Tories appear to have found the magic money tree, they should give it one more shake to give our hard-pressed rail passengers a break by implementing a fares freeze in 2020.
'Fares have already risen by 46 per cent since 2009 but wages have only risen by half that in the same period. Yet 2018 saw a record four million hours lost to train delays. Our passengers are paying for a Rolls Royce service but being taken for a ride on a Reliant Robin by privateers. It's time Shapps and Johnson admitted what everyone else already knows. Tory Frankenstein rail privatisation has failed.'
Meanwhile, the government has announced that that a new 16-17 Railcard will be available from 2 September. It will give 50 per cent discounts on most fares, including season tickets. However, first class fares and domestic travel in Scotland will be excluded. Cardholders will also denied discounts on Caledonian Sleeper services.
Reader Comments:
Views expressed in submitted comments are that of the author, and not necessarily shared by Railnews.
The comment from Cortes is a bit rich, considering Grayling wanted to replace the RPI with the CPI on the condition that wage increases for employees are also based on the CPI, but of course the unions disagreed with that.