Posted 12th August 2019 | 5 Comments
Inquiry launched into power cuts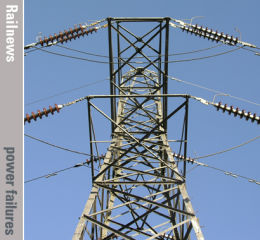 AN inquiry has been launched by the government after widespread power cuts brought many trains to a stand, particularly in the London area. Tyne & Wear Metro was also disrupted by the widespread outages, on Friday afternoon.
The problems were caused by the failure of two generators according to National Grid, which has promised to 'learn the lessons' of an 'incredibly rare event'.
Business secretary Andrea Leadsom is asking the Energy and Emergencies Executive Committee to carry out the inquiry, which will examine whether National Grid's procedures are 'fit for purpose'. An urgent, detailed report has also been demanded by the regulator Ofgem. A cyber-attack has already been ruled out.
Thameslink and Great Northern were among the lines on which trains came to a stand, and there are further questions after it emerged that Siemens-built Class 700 and Class 717 sets could not be restarted without the attention of a fitter, because computer systems could not be rebooted by the driver after a failure of the 25kV traction current. Some passengers left their trains and walked down the line as the delays lengthened. Govia Thameslink Railway said it is investigating. LNER was also badly affected, and London King's Cross was evacuated. Other major stations left in darkness included Clapham Junction.
The failures started at about 17.00, and affected most regions of England and Wales. A gas-fired power station at Little Barford in Bedfordshire failed at 16:58, followed two minutes later by the Hornsea offshore wind farm. After both generators had ceased to supply the grid, automatic equipment began disconnecting various areas in order to reduce the load on the network, preventing damage to transmission systems.
TSSA general secretary Manuel Cortes said: 'We urgently need answers from the Government over this fiasco. Having our rail network brought to a standstill in this way is totally unacceptable. We've seen thousands of passengers stranded, unable to board trains and a number of cancellations. Others have been taken off trains and on to the tracks. We need to know why this occurred and the lessons to be learned.'
Reader Comments:
Views expressed in submitted comments are that of the author, and not necessarily shared by Railnews.
I am surprised that the unit can't do a "gracefull Shutdown" in the event of a power failure so that they could be restarted in the event of a power failure. You would have hoped that this would have been tested as part of the commissioning process and they would work out a process to restart the on board systems if this wasn't in place?? It doesn't seem like rocket science to me?


It is ludicrous to suggest that reducing dependence on fossil fuels - which are wrecking our planet's climate - is somehow 'fanatical'!

The only questions that need answering from a rail perspective are:

- why can't Siemens most modern design of EMU cope with a temporary loss of overhead power?
- did NRs signalling refuse to function after power was restored, and if so, why?

Again, the 2019 railway seems inept in so many ways.

Doubtless some will bleat about nationalisation offering a solution. However, the real problem isn't ownership but incompetance within large slices of senior railway management and the engineering fraternity.

This is a direct result of successive governments appeasing the fanatical green lobby and closing conventional power stations without a viable alternative. There is very little spare capacity in the grid now, and the unreliability of wind and solar, which now account for 30% of UK energy generation, will mean that frequent outages will become a fact of life.

Hopefully answers will be forthcoming from National Grid as to why the transport infrastructure appeared to take a disproportionate share of damage due to this unfortunate event.

However answers are also urgently required to why the 700 & 707 were incapacitated to the degree that it was beyond the fault finding capabilities of drivers to reboot the units. Clearly failed units throughout the Thameslink network crippled the both their own service & other TOC's.

While the loss of power supply from National Grid was a relatively rare event emergency isolations of the traction supply are quite a common occurance and operators need to be reassured that procedures are available to enable drivers to reboot their units without recourse to fitters attending on site with the resultant delay & disruption.