Posted 12th August 2019 | 2 Comments
12 August: news in brief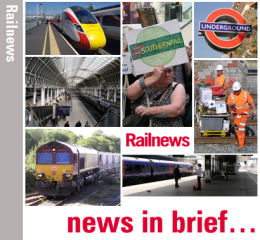 More Caledonian Sleeper problems leave passengers stranded
ANOTHER failure of a Caledonian Sleeper train left passengers stranded at Preston on Friday morning, and they were told that they would have to pay for their journeys onward to London. Virgin declined to allow sleeper tickets to be used on its services because its own trains were very busy following a power cut at London Euston on Thursday evening, while Caledonian Sleepers failed to find any road replacement coaches. CS said: 'Our apologies to guests waiting at Preston for onward travel. Due to rail disruption and knock on issues, other rail operators are not able to accept sleeper tickets to London. Guests wishing to purchase tickets to London will be reimbursed.' The train was the Lowlander from Glasgow and Edinburgh, which starts as two portions. These were successfully coupled together at Carstairs as usual, but there was then a delay of an hour at Carlisle. By the time the train reached Preston it was 90min late, and then withdrawn from service. It is the latest in a series of failures which have dogged the CAF-built Mk5 sets. At the moment, there is no date for their introduction on Highlander services to Inverness, Aberdeen and Fort William.
HS2 restarts competition to build track on Phases 1 and 2a
HS2 is restarting its bid to find contractors to build track and overhead lines on Phases 1 and 2a, amid reports that potential bidders are increasingly reluctant to take the risk. A notice posted on the Official Journal of the European Union says: 'HS2 Ltd is hosting an Industry Day on 3.9.2019 to re-engage with the market and launch its revised strategy based on market appetite and conditions'. It is the second time that HS2 has had to go to the market more than once. It also failed to attract contractors to build Curzon Street station in Birmingham and has already relaunched that competition.
Gatelines 'could become obsolete', claims Hitachi
HITACHI has unveiled a system which it says could replace gatelines at stations, by detecting the smartphones of passengers as they join or leave trains. The system is currently being tested in northern Italy. Hitachi Rail managing director Karen Boswell said: 'This technology has the ability to transform public transport in every corner of the country, from rural buses to city centre stations.'
Reader Comments:
Views expressed in submitted comments are that of the author, and not necessarily shared by Railnews.
Gateline abolition - how will this proposal deal with passengers like me who do not have a smartphone?