Posted 9th August 2019 | 7 Comments
Scottish line to reopen in £70m project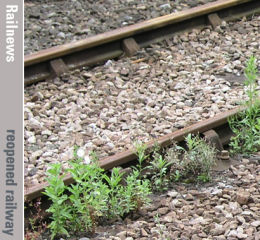 THE disused line to the Levenmouth area of Fife is to be reopened to passenger trains at a cost of around £70 million.
Transport secretary Michael Matheson said there would be stations at Leven and Cameron Bridge. The revived link would take passengers to Edinburgh in around 70 to 75 minutes.
He said: 'The detailed appraisal work that has been carried out suggests that improved transport links, which give Leven a direct rail link to the capital, will lead to an enhanced local economy, bringing better access to employment and education and the potential for new investment.
'Easier and more sustainable travel options will make it easier for people to reach hospitals, schools and visit other areas of the country as well as giving better access to Levenmouth.'
The news was also also welcomed by the co-leader of Fife Council, David Ross. He added: 'The rail network is now set to be taken forward to the next stage of development, and we look forward to seeing detailed designs.'
Passenger trains were withdrawn from the route in 1969, but it continued in use for freight and the track still exists. Trains should be running again within five years, and it has been forecast that 750,000 passengers will be using the line by 2037.
Reader Comments:
Views expressed in submitted comments are that of the author, and not necessarily shared by Railnews.
I applaud any reversal of the 1950's to 1970's penchant for destroying rail infrastructure, but the Borders Line only took a couple of years when construction finally started and the rebuild of Bathgate to Drumgelloch was quick...Surely, if you have several teams and contractors working simultaneously and round the clock, a year or two should be plenty.


It is depressing to witness waste of public money. Living on the East - West railway route, and seen 20 years of procrastination and wasteful spending with very little to show for it is a widespread source of discontent in this area.

fantastic news for this part of fife.

Well done Scotland for leading the way again in progressing re openings.

How depressing to see how much has been squandered south of the border with progressive failures in policy over the years & how little progress has been made on physical work to add to the public transport infrastructure.

Sadly with the latest round of legal action over failed franchise bids at the very least the the public purse is going to be depleted funding the defence and at worse paying compensation to the aggrieved parties. Money that would have been much better spent on capacity improvements to the existing network or re openings to enhance the network.

Good news, but why does reopening 5 miles of railway have a 5 year timeline? I know public sector Network Rail is grossly inefficient but reopening more than one mile of track per year should be within their grasp, surely?!

How can £70 million be suddenly magicked out of thin air for this rail project, when so many others with strong business cases and requiring substantially less investment don't get a look-in?