Posted 8th August 2019 | 2 Comments
New pressure on DfT after franchise competition was cancelled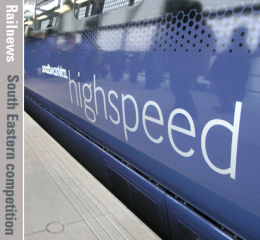 TWO frustrated bidders for the South Eastern franchise could be set to join the growing number of companies sueing the Department for Transport over its handling of franchise competitions.
The DfT has cancelled the competition for South Eastern, with the bidders down to two, saying it had 'significant concerns that continuing the competition process would lead to additional costs incurred to the taxpayer, with no certainty that this would deliver envisaged benefits'. It has refused to consider refunding the costs of the surviving bidders Abellio and Govia, which could be at least £10 million each.
The competition has been protracted. Of the four bidders who were shortlisted originally, Trentalia decided withdraw as long ago as August 2017, while its rival Stagecoach was ruled out of the contest in April this year, when the DfT said its bid for South Eastern was 'non-compliant' because it had tried to reduce the risks that the new operator would have to take over pension funding.
South Eastern was one of four bids rejected for this reason at the same time. The others were two from Stagecoach and Arriva for East Midlands, and the fourth was from Stagecoach, Virgin and SNCF for West Coast Partnership. Both Arriva and Stagecoach/Virgin have since started legal action, and Arriva alone is reported to be claiming at least £200 million.
Abellio said the abandonment of the South Eastern competition as a 'really disappointing outcome for customers across the Southeastern network. Abellio had spent many months working with customer groups, councils and business organisations and we believe our investment plan for Southeastern would have delivered significant improvements with more seats, more services, better trains and upgraded stations.'
Go-Ahead is the majority partner in Govia, and Go-Ahead chief executive David Brown said he was 'disappointed'. He continued: 'A lot of hard work was put into a strong bid that would have built upon the achievements of Southeastern in recent years in improving performance and customer satisfaction, delivering more capacity and investment.'
It has been reported that Abellio and Govia are both now 'reviewing their options'.
Govia's Southeastern contract was extended to November in June this year, and the DfT has now activated an option for it to continue until 1 April 2020. It is not yet clear what form of contract will follow after that, because the Williams Review commissioned by former transport secretary Chris Grayling is expected to recommend that the franchise system set up in the mid-1990s is no longer fit for purpose. Its conclusions are due to be published in the autumn.
Meanwhile, the new Abellio East Midlands Railway franchise is due to start in ten days time, as the successor to Stagecoach's East Midlands Trains.
Reader Comments:
Views expressed in submitted comments are that of the author, and not necessarily shared by Railnews.
An expensive & wasted effort for all parties involved. The ultimate looser again is the travelling public. While there are no shortage of ideas for improving the public transport offer there remains a distinct lack of strategy and direction from government. Having been declared no longer fit for purpose the cancellation of the South Eastern Franchise competition should be seen as the final act in the franchising process.

From day one the franchises were shell companies dressed up & marketed to the private sector with near guaranteed safe returns through fare box revenue & public subsidy. UK rail is no longer the attractive market it used to be. National Express walked after getting it's fingers burnt with East Coast. Stagecoach, Virgin & Arriva have been alienated by recent bid rejections. First shareholders have been increasingly rebellious against risks involved with UK rail. Go-Ahead & Abellio must surely be weighing up their position after this latest set back.

After the inquiries to last year's timetabling meltdown ministers were quick to point the blame at the industry & stress the need for the customer to be the focus of decision making. Time for the new ministers & the DfT to take that on board & put the customer & tax payer at the heart of their policy & decision making. Unless there is change investment & improvements will continue to be delayed & deferred.