Posted 24th July 2019 | 10 Comments
Chris Grayling reaches the end of the line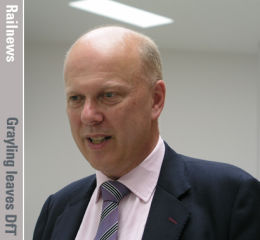 CHRIS Grayling has resigned from his position as transport secretary and has been replaced by Grant Shapps in Boris Johnson's cabinet reshuffle.
Mr Shapps was prevously minister of state at the Department for International Development and is also a former chairman of the Conservative Party. He is Member of Parliament for Welwyn Hatfield in Hertfordshire.
Railway Industry Association chief executive Darren Caplan said: 'I would like to congratulate Grant Shapps on his appointment.
'The new transport secretary leads the Department for Transport at a particularly interesting time for the rail industry. There is a record £48 billion of funding available in the next five years, and a number of major projects in the pipeline, including Crossrail, HS2, Northern Powerhouse Rail, East West Rail, Crossrail 2, Transpennine Route Upgrade, London Underground Deep Tube, and Midlands Rail Hub. And, the industry is continuing to work to increase capacity, improve customer experience and decarbonise and digitalise our rail network, through initiatives like the Rail Sector Deal.
'But the industry also faces challenges ahead. At a time when the Network Rail devolution plan and Williams Rail Review will likely see a radical restructure of the railways, with the rail supply sector's continuing concerns about "boom and bust" in rail investment, affecting both infrastructure and rolling stock, and a lack of visibility of planned enhancement work, and with the government committing to decarbonise rail, requiring a better approach to electrification, there are clearly plenty of rail issues for Mr Shapps to deal with in the coming months.'
Reader Comments:
Views expressed in submitted comments are that of the author, and not necessarily shared by Railnews.
I'm so happy that he has ended his job as transport secretary. About time we needed a different transport secretary who can do a better job than Chris Grayling. Including sorting out Crossrail and HS2.

HS2 will happen. The Treasury now has two pro-HS2 cabinet ministers. The anti-HS2 moaners should move on to moaning about something else. How about opposing Heathrow expansion and its associated pollution?

'Delivering the extra capacity between the capitol and The North can be achieved by a new, affordable and less destructive line, alongside the M1 & M6 Motorways.'

Really? I live in Rugby and while there are parts where that 'may' be possible, how will you deal with the Coventry-New Street corridor where e4 tracks are needed now, the Luton/Dunstable area and north London where construction could only happen with demolition of existing properties. Such a line would be very destructive, cause even greater anger, as well as congestion to road and rail passengers.

Grayling was an easy scapegoat for every problem on the Railways. Trains never run on time if safety is the main priority. The Dictator Mussolini claimed that he made Italian Trains run on time in the 1930s. But it is amazing how quickly people produce the 'right stats' when an Dictator is in power. Be thankful our Stats are at least honest.

HS2 Ltd chairman admits the project could cost £85bn - it is unaffordable and likely to bring danger and chaos to Euston as the two Underground lines will not accommodate arriving passengers who require onward transportation.
Delivering the extra capacity between the capitol and The North can be achieved by a new, affordable and less destructive line, alongside the M1 & M6 Motorways. 140mph Inter-City Express trains should be the goal for the nations railways to benefit the greatest number of people.

Best news rail users could have had given he was useless first time and demonstrated same abilities second time around !

Boris talked about Infrastructure being a key element and given his time as Mayor of London during Crossrail 1 construction then projects like Crossrail 2 and HS2 look more secure as you can't build NPR rail without HS2 as NPR is simply a stage 3 of HS2 and without HS2 NPR becomes unviable!

Hopefully, rail electrification can also get back on track but instead of grand projects a rolling programme extending electrification would be best option , using hybrid trains as a stop gap .

HS2 does much more than reduce journey times to Birmingham. Phase 1 reduces Manchester, Liverpool, Preston & Glasgow journey times by 28 minutes. Phase 2a saves a further 11 minutes dropping most of the above to 90 minutes and Glasgow to 236 minutes.
Those cities are in the North of England and Scotland.
The debate is about Phase 2b which serves Leeds, Sheffield & points north. Should we tweak the specification of Phase 1, to guarantee the key Phase 2b benefits.

The biggest vanity project...ever 89bn(and climbing!) all to build a railway to Birmingham and no further

I hope that stopping HS2 is on his agenda. The north of England, Scotland and Wales need that spending more than a Midlands/SE corridor does.