Posted 4th July 2019 | 3 Comments
Track workers were wearing ear defenders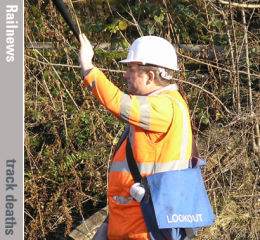 TWO Network Rail track workers who were killed by a train in south Wales were wearing ear defenders, it has emerged, and may not have heard warnings of an approaching train.
The two men were working on the line near Margam when they were struck yesterday by the 09.29 GWR intercity service from Swansea to London Paddington.
One has been named at Gareth Delbridge, 64, who was from Kenfig Hill near Bridgend. The other man was 58, and from North Cornelly in the same area.
A third track worker was treated for shock at the scene, but not otherwise injured.
Superintendent Andy Morgan of British Transport Police said: 'Our thoughts are with their families as they come to terms with this tragic news.
'Following a number of urgent enquiries into this tragic incident, it has been established that the three people were railway workers who were working on the lines at the time.
'The initial stages of the investigation suggest that the two men who died had been wearing ear defenders at the time [and] could not hear the passenger train approaching.
'We have a number of officers who remain in the area and we are continuing to work alongside the Rail Accident Investigation Branch to understand the full circumstances of what happened in the moments before this incredibly sad, fatal collision.
'The two men's families have been both informed and we will be providing them with as much help and support as possible through this undoubtedly difficult and distressing time. Likewise, we will make sure those who witnessed this traumatic incident, both at the scene and on board the striking train, receive the necessary support they require.'
Inquiries are expected to focus on how the men could have been unaware of the approaching train, as well as the management of the worksite and the role and actions of lookouts.
Network Rail said it was 'shocked and distressed', and is cooperating with British Transport Police and the Rail Accident Investigation Branch.
Wales route managing director Bill Kelly said: 'Our thoughts are with the families of our colleagues and our members of staff who will be affected by this tragic loss, and we will provide all the support we can.'
The unions have also expressed their shock. RMT general secretary Mick Cash said: 'Our immediate reaction is that this is an appalling tragedy and that no one working on the railway should be placed in the situation that has resulted in the deaths that have been reported this morning.
'As well as demanding answers from Network Rail, and a suspension of all similar works until the facts are established, the union will be supporting our members and their families at this time.'
TSSA general secretary Manual Cortes said: 'It's too early to speculate about what has happened here but clearly something has gone badly wrong. As ever our amazing emergency services were quickly on the scene and we pay tribute to their work.
'There must now be a full investigation because it is simply not acceptable that in the 21st century people go out to work and end up losing their lives.'
Train services were seriously disrupted for the rest of the day, and GWR asked passengers not to travel between Cardiff and Swansea unless their journeys were essential.
The last fatality occurred on 6 November 2018, when a track worker was killed at Stoats Nest Junction on the Brighton main line. On 20 July 2018 a track worker narrowly escaped death at Peterborough by moving out of the path of a fast train with less than three seconds to spare.
Writing in the RAIB's annual report in April this year, chief inspector Simon French had said that before the Stoats Nest fatality 'it had been nearly five years since a track worker was struck and killed by a train. However, in that time there have been too many near misses in which workers have had to jump for their lives at the last moment.
'The number and type of near misses in recent years is hugely disappointing given the efforts made to address track worker safety during that time. Every near miss, however caused, should be viewed as a failure of the system to deliver safety … Although there can be no doubting the determination of the industry to address the underlying causes of near misses and accidents involving track workers, a clear improvement strategy has still to emerge.'
Reader Comments:
Views expressed in submitted comments are that of the author, and not necessarily shared by Railnews.
so sad that the two rail workers involved in the incident were killed both had many years of expierience having worked in the railway industry for over twenty five years and now involved in health and safety within the same industry i fail to understand how the two unfornunate persons were working in an open line situation wearing ear defenders this does not however reflect the great sadness amongst all railway men i know that paople go to work and dont return totaly unacceptable in any industry and all thoughts are with the family at this sad time M.Rawlings.

I know nothing about rail safety but if the men didn't hear the approaching train due to wearing ear defenders, it seems to me that there is a simple solution. There are ear defenders available with built-in AM/FM radios – presumedly for 'music while you work'. Could such an item be more sensibly used by tuning in to a local transmitter placed within range? The transmitter could periodically communicate a bleep or 'coast is clear' message so that the wearer knew the system was working, but immediately provide an audio warning of any danger. The system could be manually operated by a lookout or maybe automatic sensors could be developed as an additional safety feature.

I think the technology required would be fairly basic and I'm sure a person with an electronics background could build a working prototype very quickly. There might also be other areas of industry that could benefit from such an invention. Dragon's Den anyone? Experts in the field of safety may have sound reasons to dismiss such an idea but it just seemed obvious to me.