Posted 26th June 2019 | 2 Comments
Caledonian Sleeper Highlander services delayed again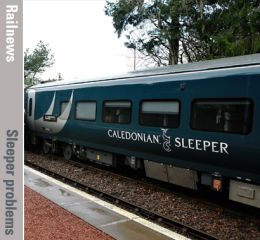 THE launch of new Caledonian Sleeper services to the Highlands has been delayed again, as rolling stock problems continue.
Transport Scotland is now preparing to levy a fine on Caledonian Sleeper for breaching its franchise contract.
Services to Aberdeen, Inverness and Fort William using the new coaches had already been postponed from the spring to 7 July, but they will not now be able to start until 'later in the year'.
Transport secretary Michael Matheson has lodged strong protests today in telephone calls to the franchise owner Serco and the rolling stock's builder CAF, and Transport Scotland has warned that 'Penalties exist and will be applied within the terms of the franchise agreement for this continued late delivery'.
Transport Scotland added: 'The introduction of new trains often present significant challenges, however this latest delay is quite simply unacceptable.
'Given we are fast approaching the height of the tourist season, it is disappointing that many customers are as yet unable to fully enjoy the benefits of the new on-board facilities, particularly as bookings have increased and feedback has been positive where the customer experience reaches the standards we expect.
'While the Caledonian Sleeper team are working to correct train faults, the manufacturer CAF's inability to supply sufficient suitable trains leaves no other option than for service entry to be postponed. The Highlander service will continue to run with existing trains until this this is resolved.'
The launch of Caledonian Sleepers using new Mk5 coaches built by CAF was originally planned for last year, but the new trains eventually took over the Lowland services between Glasgow, Edinburgh and London on 28 April. It was followed by several setbacks, including a three hour delay to the inaugural southbound service. This was attributed in part to signalling problems, but the franchise owner Serco admitted that there had been faults on board the train as well.
More recently, on the night of 11-12 June, the northbound Sleeper was stopped at Stafford after several unexplained brake applications had caused wheel flats. Passengers continued their journey to Glasgow on rail replacement coaches, and were advised that their sleeper tickets would be accepted by ScotRail for onward travel to Edinburgh.
Caledonian Sleeper apologised, but the following night's service had to be cancelled while CAF engineers worked to discover what had caused the unexpected brake applications.
The Caledonian Sleeper website said: 'Unfortunately, due to issues relating to a delay in the availability of our new trains, we will not be able to operate our new fleet on journeys over the coming weeks.
'We will instead, be running our current trains and can therefore still ensure you get to your destination and experience our excellent levels of service and hospitality on board.
'Our decision to put back the introduction by a few weeks has been taken to allow CAF, the manufacturer, to complete the further work required on the carriages to ensure that they are fit for purpose to be accepted into service. This is intended to ensure that when they do enter service our guests have the best possible experience. We will be confirming a new date for introducing our new trains on our Highland routes as soon as possible.'
Reader Comments:
Views expressed in submitted comments are that of the author, and not necessarily shared by Railnews.
I am a victim of the delay for the introduction of the new Mk5 rolling stock on the Highlander. I was due to travel on this in late August, just to sample it in the framework of an academic research about the revival of night trains in Europe, and I am not interested at traveling again in a Mk 3 sleeper, than I sampled in May for the sake of the comparison. I asked therefore for a refund for my 310.00 £, and the (standard) answer has been that my file will be dealt with within 20 working days. Another unacceptable side of the erratic behaviour of this company. Does somebody remember the days of Intercity Sleepers ?