Posted 27th March 2019 | 1 Comment
Rail union ballots for strike in row over members' rights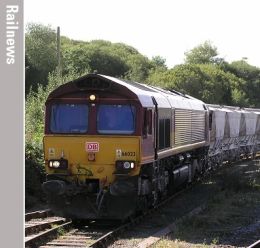 Updated 16.10

THE white-collar union TSSA is balloting its members at DB Cargo, claiming there is 'a complete breakdown in industrial relations'.
The union said its organiser, who is a member of the union's staff, had been stopped from visiting its members at DB Cargo depots, which DB Cargo has denied.
The dispute also concerns the futures of 16 employees at Trafford Park and Wakefield, who were set to be transferred to a new joint venture between DBC and Maritime Transport Limited, known as Maritime, on 1 April.
However, Maritime is said to be refusing to recognise their rights as union members.
The union has won the backing of the SPD party in Germany, which is part of the governing coalition, and said it was prepared to take its case all the way to the German Parliament.
SPD deputy chairman Ralf Stegner said: 'I am strictly opposed to workers in the UK being treated in this way by a publicly owned German company. As such, Deutsche Bahn bears a special responsibility towards the protection of labour rights.'
TSSA general secretary Manuel Cortes is refusing to 'stand idly by'. He continued: 'We will not let our members' rights be stripped away by a union-busting company like Maritime.
'DB Cargo is acting in bad faith over this and we will not allow our members to be shoved around. I have written to chief executive, Hans-Georg Werner, explaining that we will now be balloting for industrial action.
'It's really appalling to see our organiser banned from simply doing her job. This just shows DB Cargo know they are in the wrong and have lost the plot when they could and should have secured union recognition for all sixteen staff when entering into a partnership agreement with Maritime.'
'I am absolutely delighted that as a union affiliated to our Labour Party, our comrades in our German sister party, the SPD, are telling DB to do the right thing and allow our members their right to a collective union voice.
'Our members deserve to transfer with all their rights protected including the security of their union recognition, and DB Cargo should be striving to protect their staff, not just throw them to the wolves.'
DB Cargo said the TSSA statements were 'inaccurate'. A spokesman continued: 'We have not banned the union's paid organiser from visiting members. With regard to our new contracts with Maritime Transport Limited, we have consulted with TSSA and complied fully with all our obligations under the TUPE regulations.'
Reader Comments:
Views expressed in submitted comments are that of the author, and not necessarily shared by Railnews.