Posted 25th March 2019 | 7 Comments
Storm-damaged Welsh line to be closed for months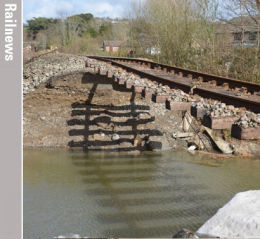 A BRANCH line in North Wales will remain closed for months, warned Network Rail, after Storm Gareth had swept across the region.
The savage weather damaged track, lineside equipment, embankments, bridges, level crossings and stations between Llandudno Junction and Blaenau Ffestiniog, and it is not yet known when trains will be able to run again. Buses are replacing the trains for the time being.
Specialist engineers are now studying drone footage and preparing a detailed programme of work to restore the line as quickly and safely as possible.
Transport for Wales is working with Network Rail. TfW chief executive James Price said; 'We now understand the extent of the damage caused by Storm Gareth to the Conwy Valley Line and we will be working collaboratively with our partners in Network Rail to ensure we keep the people of Wales moving.
'We encourage our customers to regularly check for service updates and we will provide information as work on the line progresses.'
Network Rail's route managing director for Wales and Borders Bill Kelly added: 'We recognise the importance of the Conwy Valley Line to local people, businesses and communities. We will provide regular updates as the work progresses.'
The Conwy Valley Line has often been damaged by storms in the past, with flooding posing a particular threat.
Reader Comments:
Views expressed in submitted comments are that of the author, and not necessarily shared by Railnews.
The main reason why this line remained open was it connected to the now closed nuclear power station at Trwasfynydd
Now its much harder politically to close any line

Is the branch line used most of the time. The sea erosion at Dawlish caused lots of damage to the railway tracks and foundations that closed the main line for few years. Before it was reopened. Hopefully this shouldn't take too long even though it could take some time to repair the damage caused by the bad weather.


It's not quite as important as Dawlish, since Dawlish is the only line connecting all of Cornwall and all of South Devon, including Plymouth and Torbay, which adds up to almost 1 million people total

Steve,
Unfortunately although of some local importance it's of FAR less importance to the rail network overall than Dawlish, which cut off Newton Abbott/Torquay, Plymouth, Truro & Penzance. Llanrwst, Betws-y-Coed & Blaneau Ffestiniog don't quite compare.
Though your point on climate change is right on - they seem to keep doing the same old repair jobs that were maybe passable in the days when the type of flooding just seen was maybe a once in a decade event. Now it seems to be multiple times per year.


Dawlish didn't take months to fix. This is just as important a line to those in the area.

Have Network Rail and Transport for Wales heard of climate change? Instead of repeatedly patching up this railway between the regular (2-3 a year) storms that close it for weeks, why not try engineering some read solid innovative resilience into the rebuilds? At least try something that will makes repairs quicker and cheaper at the black spots?

But then this is Network Rail, so don't hold your breath. Running replacement buses for weeks on end suits them just fine. Less to do and some day, not far off, this branch line can be closed for good.