Posted 10th January 2019 | No Comments
Complaints and compensation claims rose last year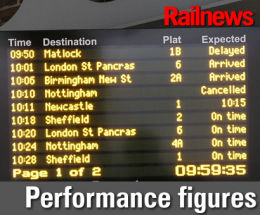 SOME three million compensation claims for late running trains were lodged between April and mid-October last year, according to new figures from the Office of Rail and Road.
The number of complaints also rose by 16 per cent, with 33 complaints made for each 100,000 journeys in Quarter 2 of 2018-19, which is July to September. There had been 27 complaints made for each 100,000 journeys in the same quarter a year earlier.
More passengers were unhappy about performance, facilities on board, overcrowding and the train's state of repair. Fewer complained about ticketing and refunds.
The figure of 33 complaints is the highest for Quarter 2 since 2011-12, when there were 36.9 complaints for each 100,00 journeys.
Of the compensation claims, 84 per cent were approved and 92 per cent completed within 20 working days.
Out of 23 operators, 15 were above the 92 per cent mark, which was the national average for completing and 'closing' each claim. However, the rest fell below this figure, with Hull Trains achieving 31.8 per cent, TransPennine Express 45.7 per cent and South Western Railway 70.3 per cent. Great Western Railway reached 76 per cent, but the ORR said GWR's processing rate had now 'significantly improved'.
The key reason for an increase in claims after April 2018 was the disruption caused by timetable changes in May, particularly among passengers travelling on Northern, TransPennine Express and Govia Thameslink Railway. GTR received over a million claims for delays and its closure rate was also significantly higher than the average, at 99.9 per cent. Caledonian Sleeper, Heathrow Express, London Overground, Merseyrail, Southeastern and TfL Rail did even better, achieving a 100 per cent response rate within 20 working days.
The ORR's deputy director, consumers, Stephanie Tobyn said: 'This is the first time ORR has published data on the important area of delay compensation. Passengers have rightly made claims for these journeys and it is good to see that train companies, in the main, are responding to these promptly.
'ORR will be meeting all train companies later this month to review the current timescales for compensation claims, particularly where these are below target.'
The Rail Delivery Group said it wanted the claims process to be 'simple and easy'. Regional Director Robert Nisbet said: 'We know that services on some routes weren't good enough last summer due to disruption from the May timetable change and the heatwave.
'Some train companies have introduced automatic refunds, helping claims to increase by 80 per cent over the last two years. As well as Delay Repay compensation, the industry has paid out additional compensation, worth up to a month's free travel, for those on routes most affected by the timetable change.'
Last month, Northern passengers began to be entitled to make Delay Repay claims if they were fifteen minutes late. The previous window had been 30 minutes.
Labour's shadow transport secretary Andy McDonald criticised the rise in complaints. He said: 'The Tories are failing to provide reliable or affordable rail services. It is clear that the privatised railway is broken and the travelling public want change. That is why Labour will take the railway into public ownership to improve services and hold fares down.'