Posted 12th December 2018 | No Comments
Lessons learnt from Clapham crash are 'fading' 30 years on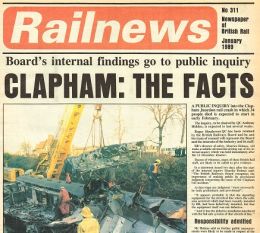 THIS week includes the 30th anniversary of the triple collision near Clapham Junction.
The accident happened at the height of the morning rush hour on 12 December: 35 people were killed, including two drivers, while 69 were seriously injured. More than 400 others were also hurt.
A technician had left signalling in a dangerous condition, because although new circuits had been installed loose and uninsulated old wiring was still connected. The result was that a signal did not turn to red when the section it was protecting was occupied, and this caused a rear-end collision. A third train running empty collided with the wreckage moments later.
The Clapham inquiry made 93 recommendations, including a limit on the number of hours that signallers and technicians could work. It also urged the introduction of automatic train protection, but ATP was seen as too expensive for general installation.
Two more serious accidents also connected with train protection flaws followed at Southall in 1997 and Ladbroke Grove in 1999.
On 30 November 1999, in the wake of the Ladbroke Grove collision, deputy prime minister John Prescott announced approval of a modified train protection system, saying: 'In the future the rail industry will approach safety issues with a partnership approach'. He also said Railtrack would have the new Train Protection and Warning System installed at 12,000 sites by the end of 2002.
A further collision, although low speed, occurred on the station throat at London Waterloo in August last year. No-one was injured, but it was then revealed that once again wrongly installed wiring was to blame, prompting the Rail Accident Investigation Branch to warn that the lessons learnt from Clapham were 'fading from the railway industry's collective memory'.
Chief inspector Simon French said: 'The disastrous collision at Clapham Junction was a turning point. The immediate cause was poor working practice by a signalling technician, and the public inquiry highlighted serious deficiencies in the management of safety.
'The recommendations of the inquiry fundamentally changed several aspects of how the railway is run, and for signal engineers one of the most important was the approach to routine tasks, such as testing alterations to signalling installations.
'It was therefore concerning for RAIB to discover, during our investigation of the collision at Waterloo last year, that some of these important changes were not reflected in the way that signalling modifications were being undertaken.
'Some of the people involved did not keep proper records of temporary works, or ensure that additional temporary wiring was shown on the design documents. Leaving that wiring when it should have been removed led to a passenger train being diverted on to a blocked line and colliding with wagons. Compliance with the existing standards, developed since Clapham, would have provided the controls needed to stop temporary wiring being installed and used in the uncontrolled manner which resulted in this accident.'
The RMT has also expressed concern. General secretary Mick Cash said: 'This warning from the RAIB about an eerily similar chain of events at Waterloo should be taken very seriously by the industry as a whole. As the RAIB points out the steady loss of experienced workers has been taking place since the break-up of the industry following privatisation 25 years ago.
'The fragmentation of the rail industry that started after Clapham has meant that there is an ever greater disconnect between contractors striving for ever greater profit while Network Rail, responsible for operating, maintaining and renewing rail infrastructure, is stretched to breaking point due to budgetary constraints.'
Network Rail said: 'The Waterloo derailment was a wake-up call for us, and our contractors, and highlighted that we can never afford to be complacent when it comes to keeping our passengers and workforce safe. Today we enjoy an enviable safety record that is second to none across Europe, but that record has been hard won through focus and action.
'The lessons of Waterloo have already been shared across the industry and these recommendations will help further.'