Posted 13th November 2018 | 3 Comments
Brake fault delays introduction of new TransPennine trains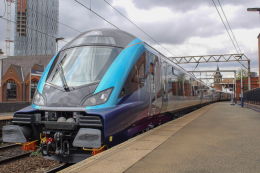 THE introduction of CAF-built Nova 3 trains on TransPennine Express has been delayed, after commissioning trials revealed a problem with the braking system.
The new trains should have entered service this side of Christmas, but the launch has been put back to January while tests continue.
Railnews understands that the fault means that the brakes are 'over responsive' when applied at low speeds, meaning that the final stages of deceleration are too abrupt for the comfort of passengers on board.
A TPE spokesman said: 'We will not be introducing the Nova 3s until we are completely satisfied that the trains are fit to enter service. Work is underway now to trace the problem and put it right.'
The spokesman could not say whether the fault was mechanical, electrical or related to software, but it does not affect the other fleets on order, the Nova 1s and 2s.
TPE managing director Leo Goodwin said: 'While we are keen to start the roll out of the Nova 3s as soon as possible, it is important that we allow CAF to address the issue identified during the train testing process. It was hoped that our customers would start to experience these new trains before the end of the year, but we will all now have to wait until the New Year.
'This issue does not affect the other Nova fleets. We will start to see new trains in service by spring next year, and we are still on track to complete the roll out of all three fleets by 2020. This is a hugely exciting and ambitious project that will provide our customers with extra seats, extra space and a whole new experience when travelling with us.
"We will continue to work with CAF to ensure that we can get the trains on to our network as soon as possible. It may be a short delay to the programme, but it will definitely be worth the wait."
CAF's UK director Richard Garner added: 'We are working closely with TPE to resolve the technical issue. Our trains undergo thorough, detailed testing in order to ensure that when they enter service, they provide the customer with a reliable, comfortable and high-quality service.
'When the Nova 3 trains enter service we believe the customer will see a huge step change.'
Reader Comments:
Views expressed in submitted comments are that of the author, and not necessarily shared by Railnews.
More good news....

It would have been helpful if the article explained what Nova 1/2/3 are.
Nova 1 = Hitachi AT300 Electro-Diesel (bi-modes)
Nova 2 = CAF inter-city EMUs
Nova 3 = Mark 5A coaches
[We refer without further explanation to all kinds of railway assets in our stories, and assume (I think rightly) a reasonable level of knowledge among our gentle readers. Wikipedia will add the rest if you need it.--Ed.]