Posted 26th October 2018 | 2 Comments
LNER cancels December Intercity Express launch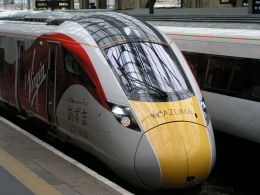 NEW fleets of Hitachi-built Intercity Expresses will not be entering service on the East Coast Main Line before next year.
LNER had been hoping to introduce the 'Azumas' with the December timetable change, but the launch has now been cancelled.
As predicted by Railnews on 10 October, the launch had been looking increasingly unachievable because various problems have arisen during tests, particularly emissions of electromagnetic interference which are affecting signals and other safety-critical equipment.
An LNER spokesman told Railnews that 'a number of matters' had contributed to the postponement of the launch, but he agreed that the electromagnetic interference was a cause of the delay.

He added that it is understood that Network Rail and Hitachi are close to reaching a workable solution to the electrical problems, but that LNER felt it would be better to introduce the trains into service only when all the queries had been resolved.
Reader Comments:
Views expressed in submitted comments are that of the author, and not necessarily shared by Railnews.
Well maybe they can use the delay to a) come up with a new livery which doesn't look like a Virgin Train (Garter Blue replacing red for First Class, Apple Green for Standard making it easier for people to know which is which) and b) what about using any compensation to fit a more comfortable type of seat. LNER may want to keep hold of more Mk4 sets to replace half a dozen 5 car Azuma's which could be used on a new Edinburgh to Cambridge / Stanstead service a big tourist / business market. The Azuma's may need powerpacks but the main capacity constaints on the ECML are between Peterborough and KX.