Posted 4th October 2018 | No Comments
Going up: passenger figures start to rise again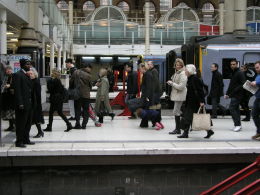 THE recent trend in falling passenger figures on National Rail was reversed in the first quarter of 2018-19, according to the Office of Rail and Road. However, season ticket travel has continued to decline.
The number of journeys, which are measured by counting each train used to make a trip, rose to 429 million, which was an increase of 3.1 per cent compared with the first quarter last year.
The key factor was an increase of 3.5 per cent in the London and South East sector, bringing the number of journeys for the 12 months ending June 2018 to 1.72 billion.
The number of journeys made using ordinary tickets (278 million) such as Advance, Anytime and Off-peak, increased by 15 million compared to the first quarter last year. However, season ticket journeys fell to 150 million, which the ORR said 'suggests passengers are moving away from longer-term tickets'.
Passenger kilometres also rose nationally, by 2.1 per cent compared with the first three months of 2017-18. All three sectors reported growth, but the Long Distance sector achieved the highest figure at 2.3 per cent.
Passenger revenue grew by 6.5 per cent, and the average revenue for each journey was up by 3.2 per cent. This was consistent with a further move away from season ticket travel, where individual journeys are often the cheapest, particularly when an annual season is used. The number of season tickets has now fallen consistently over the past two years, but the rate of decline is showing signs of easing.
The London and South East rise was echoed in the total for Govia Thameslink Railway, which is the busiest franchise of all. The number of journeys on GTR routes rose to 81.7 million, which was 4.8 per cent higher than it was a year earlier.
The highest percentage rise was reported by TfL Rail, up by 12.4 per cent to 11.4 million journeys, but this is probably partly due to the changeover from GWR to TfL Rail in the Thames Valley. GWR, meanwhile, recorded a fall of 1.0 per cent to 25.6 million journeys.
Smaller operators reported a mixed picture, with open access Grand Central up to 400,000 journeys in the quarter – a rise of 12.2 per cent. Hull Trains, however, recorded 300,000 journeys, a rise of just 0.1 per cent. Franchised Caledonian Sleeper fell back to approximately 100,000 journeys, which was a drop of 2.3 per cent.
Rail Delivery Group CEO Paul Plummer said: 'After seeing passenger growth slow in recent years, this return to growth is encouraging.
'It underlines the importance of delivering our long-term plan for thousands of new services and engaging in a national conversation about the future of the railway.'