Posted 20th August 2018 | 5 Comments
Scottish Intercity 125s arrive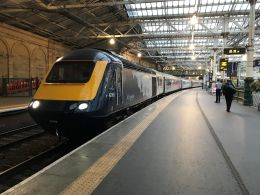 THE first ex-British Rail High Speed Train has arrived in Scotland after major refurbishment.
The eventual fleet of 26 cascaded sets will consist of 17x5-car and 9x4-car formations, and they will be used to provide intercity services within Scotland, connecting a total of seven cities.
The first route to see the 125s in service will be Edinburgh-Aberdeen, although this cannot happen until crew training has been carried out. ScotRail has not announced a start date, saying only that it will be 'within weeks'.
The first train arrived in Scotland on Friday night (18 August), having travelled from Wabtec in Doncaster. It crossed the border from England just before 20.00, ScotRail said.
The upgrade of the Mk3 trailers has included the installation of single-leaf automatic doors and controlled emission toilets. The original trains, built between 1975 and 1982, were the last intercity rolling stock designed by BR to have slam doors and discharge toilets.
Other improvements include a new 'café area' on board.
ScotRail's High-Speed Trains project manager Chris Tait said: "I'm delighted that the first of our iconic trains has arrived in Scotland. They will transform rail travel in Scotland by providing more seats and a much-improved on-board environment."
Reader Comments:
Views expressed in submitted comments are that of the author, and not necessarily shared by Railnews.
Meanwhile, passengers continue to be crammed into 4 car Voyager units on Cross Country services - surely it would have made more sense for longer trains on the long distance services ?

The Class 43 HST's are the most iconic reliable passenger locomotives that should not be scrapped. And it's great that ScotRail will look after them and to use them in Scotland serving not just Edinburgh and Glasgow. But serving the cities in Scotland that these will be operated on.

Although refurbished (and re-engined a while back) they're basically around 40 year old trains and having the additional unit will provide resiliency and keep the service running in case one engine takes a break. Besides each power car already has luggage space available in it.

Do we know whether these shortened sets retain two power cars , totalling around 4,500 hp ? This would seem to be wasteful, with far more horsepower than needed . Would it make sense to take out one diesel - alternator , for utilisation elsewhere, and use the empty end car for baggage annd bicycles ?