Posted 1st August 2018 | 3 Comments
Ban for 'misleading' ads from Eurostar and Gatwick Express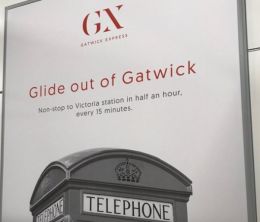 (ASA)
ADVERTISEMENTS from Gatwick Express which refer to a '30 minute' service between London Victoria and Gatwick Airport must be changed, the Advertising Standards Authority said.
In spite of the theoretical booked time, which almost four out of five trains achieve, the ASA acknowledged that 'consumers would appreciate that train services were occasionally subject to unforeseeable delays, [but] we nevertheless considered that consumers would expect that Gatwick Express achieved the stated journey time barring exceptional or unforeseeable circumstances outside their control'.
GX, which is part of Govia Thameslink Railway, said that between 30 April 2017 and 26 May 2018, 79.1 per cent of scheduled trains between Victoria and Gatwick Airport had arrived at their final destination on time, and that there were some causes of delays which were outside the operator's control, such as trespassers, emergency speed restrictions and infrastructure faults affecting points or signals.
The ASA concluded: "3.1 per cent of the services did not have a reason assigned to the delay or were classified as uninvestigated. While we acknowledged that a proportion of services were delayed due to exceptional or unforeseeable circumstances outside Gatwick Express' control, such as track faults, fatalities and power supply failures, we considered that a significant proportion of services were delayed for reasons that were within Gatwick Express' control. As such, we concluded that the claims 'Non-stop to Victoria station in half an hour' and 'in just 30 minutes' had not been substantiated and were misleading."
Govia Thameslink Railway said: "Just a third of Gatwick Express delay minutes were within our control. However we acknowledge the ASA ruling and began withdrawing these adverts many months ago."
Meanwhile, the ASA has also ruled against website claims by Eurostar that single tickets from London to Paris could be bought for £29. Eurostar said that these fares were available more than six weeks ahead, but it accepted that 'the availability period for £29 tickets (six to 18 weeks in advance) could have been more clearly communicated to customers'.
Eurostar had made the periods of availability clearer in a footnote, but the ASA noted that this was in a smaller font. It concluded: "The claim 'With Eurostar tickets from as little as £29 o/w' as consumers were likely to understand it in the context of the ad as it was originally seen, had not been substantiated and was therefore misleading."
Reader Comments:
Views expressed in submitted comments are that of the author, and not necessarily shared by Railnews.
About time too! i look forward to the same fate for 'Not Work Fails' timetables another fairy story!!

I paid £308 for a St Pancras-Lille return (including £10 compulsory booking fee) off-peak second-class. So "Paris from £29" is, I believe, grossly misleading.