Posted 5th July 2018 | No Comments
Network Rail faces multi-million knotweed bills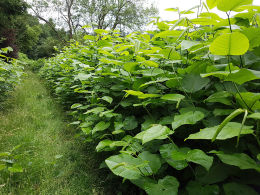 NETWORK RAIL has lost an appeal in a claim for damages for losses caused by Japanese Knotweed.
The original judgment had been on 2 February last year, when Cardiff County Court decided that NR was liable to pay two property owners who live alongside the railway at Maesteg, after hearing that roots of the invasive and persistent plant had grown from the railway under their land.
The court found that NR had been 'inadequate and unreasonable' and also in breach of its duty as a landowner towards the claimants Stephen Williams and Robin Waistell, who own bungalows next to the line. The value of their properties had been affected by the weed, which had been allegedly present on railway land in that area for at least half a century.
Network Rail appealed against the ruling, but the Court of Appeal has now decided that the claimants did deserve damages.
IHowever, it changed the basis of the original judgment, which concerned the loss of property value. Instead, the case was decided on the fact that the claimants had 'diminished the claimants' ability to enjoy the amenity and utility of their respective properties'.
Master of the Rolls Sir Terence Etherton said: "'Japanese knotweed does not merely carry the risk of future physical damage to buildings, structures and installations on the land. Its presence imposes an immediate burden on landowners who face an increased difficulty in their ability to develop, and in the cost of developing, their land, should they wish to do so, because of the difficulties and expense of eradicating Japanese knotweed from affected land."
Network Rail responded: "As many gardeners know, Japanese knotweed is invasive and requires several years of treatment to remove. Once identified, Japanese knotweed growing on our land is entered into a treatment programme. We will continue with this established regime, which complies with legislation and helps us run a safe, reliable railway. Network Rail is aware of today's ruling by the Court of Appeal and is considering its implications."
The Appeal judges awarded the claimants £10,000 each.
Property Care Association Stephen Hodgson chief executive told The Times that the weed is found the length of Britain, and even in the Channel Islands. He estimated that just dealing with railway land in South Wales would cost 'millions'.
The weed itself was first to brought to Britain in the mid-nineteenth century, and was originally favoured by gardeners because of its resemblance to bamboo. It is difficult and expensive to remove.