Posted 14th June 2018 | 6 Comments
Passenger figures down again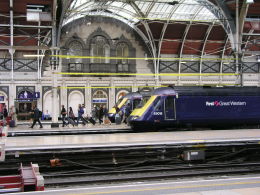 THE number of passengers on National Rail has continued to fall, driven mainly by fewer season ticket sales. In contrast, the number of people using other forms of ticket has risen to some extent, although the total of all journeys was down again in the fourth quarter of 2017-18.
The industry is still planning to increase train services further over the next two or three years.
For the first time since the economic downturn in 2009-10, the annual total (counting each train used to get from A to B as a 'journey') fell to 1,708 million in the year to April.
The Office of Rail and Road says the number of journeys made using season tickets fell for the second consecutive year, down by another 9.2 per cent, but the number of journeys with other tickets rose by 3.8 per cent.
Journeys on the Long Distance and Regional franchises continued to grow, although at a much slower rate than in 2016-17. Growth in the Long Distance sector was at its lowest level since 2000-01, when rail travel was affected by the Hatfield derailment and the speed restrictions which followed. Despite this, both sectors recorded the highest volume of journeys since the beginning of the present series of statistics, with 145 million journeys in the Long Distance sector and 390 million in the Regional sector.
The fall was not echoed evenly among all operators. In 2017-18, Govia Thameslink Railway had the largest number of journeys, at 319 million. The ORR has attributed a fall of about 2 million on GTR to industrial disputes, staffing issues and 'planned cancellations'. The GTR total has fallen for the second year running.
Journeys on South Western Railway also continued to fall, but a record drop of over 18 million could have been caused by the major blockade at London Waterloo in August as well as industrial action and a transfer of franchise ownership, the ORR said.
Chiltern Railways, on the other hand, was up by 28 million passenger journeys – an increase of 6.4 per cent on the year. One factor is thought to be the new direct route between London Marylebone and Oxford, which opened in December 2016.
ScotRail was also up, by 3.8 per cent or 3.5 million since last year, which was its highest growth rate since 2014-15. This could be attributable to the completion of improvement projects and electrification in 2017-18.
Rail Delivery Group chief executive Paul Plummer said train operators were still planning to offer another 6,400 services a week by 2021.
"Despite some slowing down, this growth isn't expected to hit the brakes in the long term. While technology may mean fewer people are travelling into work every day, anyone taking the train into our major cities will know that investment to run more trains is essential," he said.

Reader Comments:
Views expressed in submitted comments are that of the author, and not necessarily shared by Railnews.
It is often pointed out how headline fares are now "sky high" , but little reference made to the bargain fares that are often available too.

The one thing that does seem to have increased over the past twenty years is the differential between the dearest and cheapest fare for a particular journey.

It would be interesting to know the figures Virgin, London Northwestern / London Midland and Scotrail out of Euston.

[Virgin West Coast is continuing to rise (38.3m journeys in 2017-18 compared with 37.7m a year earlier; West Midlands Trains recorded 74.9m compared with 73.6m the previous year. (There is no separate figure for LNWR alone.) ScotRail no longer runs to Euston, but Caledonian Sleeper is steady at 300,000 journeys annually. The main falls affect GTR and the other commuter railways south of the Thames. You can browse all the stats at http://dataportal.orr.gov.uk/displayreport/report/html/2b2e2c38-c822-4e1f-9fb4-b049b3c13899.--Editor.]

Season tickets are regulated, they rise with annual inflation.

Surely one reason for e fall in season tickets is the rise in use of new methods like contactless payments which give a greater freedom as to journey options than a season ticket from A to B . It's now possible to start at ones home Station and then change en route sometimes to another operator in say London where you change too underground or DLR .

It's also worth remembering that season tickets are valid for everyday yet how many use them at weekends or holidays and they often have a lower unit cost than most other tickets meaning their fall in use could actually mean more revenues for the railways!

While projects like Crossrail and Thameslink will affect usage given easier interchange and New through journeys meaning say Ilford to Ealing will be counted as a single journey instead of the three parts in now has .

No mention here of the comedy price of rail tickets in 2018. Looking at the cost of many season tickets it's hardly surprising people are putting two fingers up at the railways and finding other ways to travel. Why so many fare increases? Anyone would think the government had planned this all along...