Posted 7th June 2018 | 7 Comments
Modernised Underground cars are ordered for Wales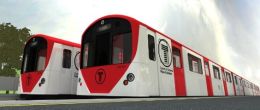 FIVE battery/diesel ex-London Underground sets rebuilt by Vivarail are set to enter service with the new KeolisAmey Welsh franchise next year.
The Class 230 D-Trains are reconstructed using the aluminium bodies of redundant District Line cars, and Vivarail has been named as preferred bidder. They will be the first to enter service as part of the new franchise. KeolisAmey will take over as train operator from Arriva in October.
Vivarail CEO Adrian Shooter said: "We know that KeolisAmey want to bring the best trains to their passengers so our interior layout has been designed to do exactly that. As well as the wide and spacious carriages the trains will have a Universal Access Toilet, WiFi, air conditioning, USB ports and three-pin sockets. There will be a range of seating layouts and plenty of space for bikes and luggage.
"With KeolisAmey we have been determined to give passengers the very best travelling experience and the trains they deserve: modern, comfortable, reliable and environmentally-friendly.
"In conjunction with our partners at Creactive we have worked on a livery design that will be seen across the whole fleet.
"Our aim has always been to provide innovative solutions for operators and to that end I'm delighted to announce that our trains will be built as battery/diesel hybrids to cut down on emissions and make use of the exciting new technology we have developed over the past two years. As the UK's leading battery train manufacturer we know that emission-free trains are the future and we will continue to spearhead that development. With this hybrid fleet we will deliver a train that is clean, green and reliable making use of GPS systems to cut out the engines in stations and environmentally-sensitive areas.
"Our trains will come into service in summer 2019 and will form the flagship fleet for Wales and Borders and I look forward to taking the first journey in North Wales next year.
KeolisAmey Wales Cymru mobilisation director Colin Lea said: "We are proud to announce that KeolisAmey and Vivarail will provide a step-change in passenger comfort and service quality on three North Wales routes (Wrexham-Bidston, Conwy Valley, Chester-Crewe) by introducing these units, fitted with the latest passenger comfort appliances such as power supply at all seats, high-speed Wi-Fi, air-cooling, bike spaces, and a brand new seating layout reflecting the needs of the passengers.
"In addition, these innovative hybrid trains fitted with state of the art monitoring systems, will provide a significant change in performance and reliability, helping KeolisAmey to deliver a more reliable service."
Design and build of the three-car trains is already underway at Vivarail's two sites and orders have been placed with the leading supplier of Universal Access Toilets, which is based in Cwmbran. The fleet of five trains will move to Wales for final testing and commissioning in early 2019.
Reader Comments:
Views expressed in submitted comments are that of the author, and not necessarily shared by Railnews.
Would be nice to see the Newport - Ebbw vale link re-instated before the predicted 2021. The line is already there! As they have saved all that money not electrifying past Cardiff, they could do this sooner.

Would have been nice to hear ambitions from the new operator to reopen a station at Mold. We all like to dream.

Out with the old used trains. And in with the brand new trains. A new era of Wales's railways in 2018.

In that case as its too early-RIP Arriva Trains Wales.

A very interesting development. Certainly in the immediate iimplementation phase of the new franchise 150 units can be released from the North Wales diagrams enabling either displacement of 14x units or strengthening of of service on the Valley lines pending modernisation.

Hopefully service reliability will also see a boost with a locally based & maintained fleet rather than having to be cycled via Cardiff for planned exams.

5 units enables the current timetable to be covered assuming 4 daily diagrams plush a maintenance spare. What I await to see is long term development plans for the Conwy Valley and Wrexham to Bidston as both lines have suffered from lack of ambition since BR Regional Railways days when tight cost control was the order of the day. Certainly with battery /diesel units on the Bidston line opportunity to stray beyond Bidston does look inviting.

Glad to see the D-Trains spread there wings, just not sure using them on the Chester-Crewe line is going to be beneficial unless they upgrade the max speed of the units to 75mph!

I would say these would be perfec on the Conwy line,just the right size and layout for third rural line