Posted 23rd April 2018 | 4 Comments
Protests as Scottish trains depart for England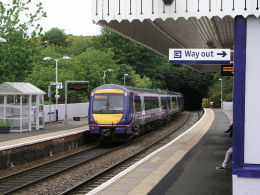 THE transfer of a dozen ScotRail Class 150 and Class 170 diesel units to northern England has sparked protests, with one union criticising a 'make do and mend' culture north of the border.
There are also problems with the programme to introduce HSTs on main internal intercity routes in Scotland, which are said to have been caused by a shortage of engineering parts.
The TSSA said ScotRail has been 'forced to procure an extra eleven trains to plug the holes after train leasing company, Porterbrook, transferred ScotRail¹s trains to England as their lease expired'.
The units are understood to be going to Northern.
TSSA general secretary Manual Cortes said: "The lease system of trains is one of the most snide and despicable things about the great rail privatisation swindle.
"They are not owned by Network Rail or even the train operating companies but by private venture operating companies who just lease old trains – the very same ones that used to be in public ownership, owned by us – to the highest bidder, for rip off rates.
"There is no real incentive to invest in new trains, with modern facilities and decent toilets as there is less profit to be made from them. It's far easier and more lucrative for privateers to simply change the train's livery and run the them until they literally fall apart. That's why there is a scarcity of spare parts – the trains are so old that they've been used up."
The ScotRail Alliance said it was 'in the process of securing more trains to increase capacity'.
Reader Comments:
Views expressed in submitted comments are that of the author, and not necessarily shared by Railnews.
Chris points out an important thing - most of the decisions , procurement and others, concerning the passenger railway , are now being made by arms of government (DfT, Transport Scotland, etc.).

Doesn't this largely negate the original potentials of privatisation - ongoing innovation, enterprise, adaptability and long term investment, on the part of the operating companies ?

[Pretty much, David -- but then the original privatisation proposals ('right of access', etc.) were cobbled together during a time of political panic. Not surprisingly, they didn't work.--Editor]

At least the Class 150's and Class 170's cascaded from Scotland will be having a new home in the North of England. As Northern England needs more extra trains despite new trains have been ordered that Northern and Transpennine Express will be using them on services that has lots of people using the trains to get from A to B in the North of England. Whilst the South of English is getting more new trains to replace the old and possibly transfer the older trains to Wales.

Not sure where Manual Cortes got the idea that trains are leased to the highest bidder. Practically every move of rolling stock I've seen has been decided by the DfT.

Also, I'm pretty sure that the decision to re-use HSTs on the Scottish Mainlines was Transport Scotland's idea, with the franchise specification basing the rolling stock specification round the characteristics of these trains.

If you don't like this, the alternative is to invest a lot more public money. That is neither pro- nor anti-privatisation, but I'm getting tired of these claims that nationalisation is the magic solution to decades of underinvestment.