Posted 16th April 2018 | 5 Comments
Seven new West Midlands stations could help Games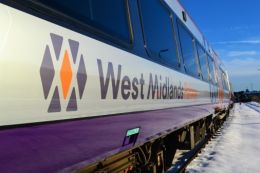 PROPOSALS to build seven new stations in the Birmingham area have been identified by West Midlands Trains as part of its plans for the Commonwealth Games in four years from now.
As the Australian Games draw to a close, WMT has unveiled its plans to be a core part of the next games in Birmingham in 2022, aided by new trains, more electrification and station upgrades. These will include the rebuilding of Perry Barr, which will be the nearest station to the Alexander Stadium and the Athletes' Village. University will also be given a major upgrade, while the Cross City Line itself will have extra capacity.
The potential sites for new stations are Darlaston, Willenhall, Kings Heath, Moseley, Hazelwell, Merry Hill and the West Midlands Safari Park. All will depend on feasibility assessments.
WMT said it was working closely with Transport for West Midlands, West Midlands Combined Authority and Birmingham City Council to help with the writing of a transport strategy.
The operator's customer experience director Richard Brooks said: "This is an incredibly exciting time for Birmingham and the West Midlands in general. People from across the world will be coming to our city to enjoy the Games and cheer on the athletes.
"Mobility is going to be central to the Games' success and we want to make every possible effort to help people travel in and around the city and venues. The improvements we have planned in the run up to 2022 are going to transform rail travel in the West Midlands and we're dedicated to offering visitors a service which is convenient, seamless and value for money."
Transport is usually at the heart of international sporting events such as the Commonwealth Games. The 'carless' 2012 London Olympics were hailed as a global success partly because of the efficiency of public transport. The system included some built-in redundancy so that a problem on one route could be overcome by diverting passengers to another corridor.
Reader Comments:
Views expressed in submitted comments are that of the author, and not necessarily shared by Railnews.
Pop up stations good idea but will never happen. Drivers don't just stop the train like a car stops. They don't just go oh I see the station and put the brakes on. There is months of training on the route and getting station stops just right is an art. One mistake and the train could be past the station. Its about knowing every inch of the track where you are and how long you have to stop the train. Most drivers will use track side features such as signals and junction boxes to judge how far they are from the station. There will be certain speeds and poinst for every station that drivers use to begin the braking process to bring the train to a stop and this is all without any help from GPS or on train systems. Most believe the drivers at the front doing little but even with all the technology this is till learned by months of route learning. Therefore it would take WMT months to train all the drivers for a new station so I wouldn't see them or any other TOC applying this option its just not feasible. Its always good to see new stations tho so good luck WMT.

Erm. Has West Midlands Railway literally forgotten about Kenilworth because they were planning to reopen the railway station in Kenilworth back in March. But yet again it got postponed and there isn't no date on whether the new railway station will reopen at Kenilworth in Warwickshire.

Of course seven new stations could help the Games. But if WMT think they can be built and some railways electrified in less than four years, that just shows that they do not have a clue about the railway. Unless these stations are in Network Rail's CP6 funding settlement, they WILL NOT happen.
[The original announcement from WMT includes the words: "These [improvements] include new trains and greater capacity on the Cross City line by 2021 ... and major electrification works across the network." The 'major works' are not identified.--Editor.]

I have always thought that 'Pop Up' Stations would be enormously helpful when it cam to big events - like Pop Concerts and Air Shows. Suddenly for a few days, large numbers of people want to use trains to and from locations that are often away from ordinary stations. Obviously they have to be safe but I am sure temporary structures could help everyone manage the huge numbers that normally come by road.