Posted 21st March 2018 | 5 Comments
Grayling seeks private investment for rail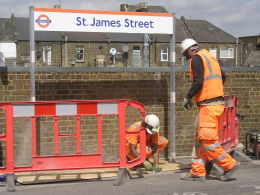 THE transport secretary Chris Grayling has opened the doors to private railway investors in a bid to reduce pressure on the Treasury.
The Department for Transport said: "Proposed schemes would need to make commercial sense, build on the government's significant investment in rail infrastructure and have the needs of passengers at their heart."
The new policy has been welcomed by the railway and engineering industries, but transport campaigners are warning that its benefits need to be felt nationwide and not just in south east England.
In a parallel development, the DfT is tightening its grip on how rail projects are funded and managed, saying it has 'set out a new process for ensuring that taxpayer-funded rail projects are planned and scrutinised more effectively in the future. As part of the new Rail network enhancements pipeline, new rail schemes will be decided on in a staged – develop, design, deliver – approach to allow for greater assessment of feasibility and value for money."
East West Rail is already known to be a candidate for a degree of private funding, and a separate company is being set up this spring to complete the route between Oxford, Aylesbury and Bedford, and later on to Cambridge, while other major schemes attracting headlines include better rail connections for London Heathrow Airport.
Links between the airport and London are already set to be boosted as phases of the Elizabeth Line are opened this year and next, so now attention has been turning to improving access from the west and south.
A private company called Heathrow Southern Railway has estimated the capital cost of a line from the south to be between £1.3 billion and £1.6 billion. The proposed route would run from the station under Terminal 5 – where two spare platforms are available – to make a connection with the Windsor-Staines Line via a short spur. The main route would continue underground along the M25 corridor as far as a second junction with the existing railway near Chertsey.
The DfT said the Heathrow scheme was 'just one example of ambitious proposals that would generate significant improvements for passengers".
Transport secretary Chris Grayling explained; "We are investing in the most significant modernisation of the UK rail network since Victorian times, and I want the knowledge and expertise of investors and local partners to contribute to delivering new connections, more services and better journeys for passengers.
"This has already proved effective on a number of roads schemes in the UK. By encouraging innovative ideas and new investment on our railways, we can relieve the burden on taxpayers and fare payers with projects that match our transport needs. This can also support our economic and housing aspirations to ensure everyone benefits from an enhanced rail network.
"Heathrow is a perfect example of where this can make a real difference. Such schemes will help ensure the benefits of our major international hub are even more accessible to those across the west and south of the UK, providing vital links for travellers and exporters and attracting inward investment."
Rail Delivery Group chief executive Paul Plummer said: "Better rail connections are crucial for generating prosperity in communities across the country. This is why train operators, infrastructure managers and suppliers are ready to work with government and other funders to support value for money projects, whether they are publicly funded or otherwise. It is only by working together in this way that we will deliver the changing and improving railway that the economy, communities, customers and our people need, now and for the long-term."
Potential partners and investors have also welcomed the new policy.
The Association for Consultancy and Engineering's chief executive Nelson Ogunshakin said: "This is great news for our railways and we're delighted that our calls for increased investment through complementary private funding have been heard. There is a huge opportunity for market-led proposals to unlock rail projects."
However, Andrew Allen from the Campaign for Better Transport warned: "In recent years, rail projects have been very difficult to deliver. Hundreds of communities have been crying out for a bigger, better railway but high costs and convoluted processes have meant slow progress in getting anything built. We hope the new pipeline approach signals real funding and a long-term commitment to delivering new tracks and stations across the country – not just privately-funded schemes in the south east."
Reader Comments:
Views expressed in submitted comments are that of the author, and not necessarily shared by Railnews.
Yes, I quite agree, franchising is indeed a fatally flawed model ; Chiltern seems to just have been able to make a better "fist" of this than any of the others.

Do we really need, though, to treat the varied passenger operations round the rail system in the same uniform way ? Personally, I too would look to operations with captive markets being run as local direct - democracy cooperatives, but those where effective competition is feasible ( mostly intercity) to be given over to competitive open access .

It's unfortunately wishful thinking to imagine that the grant of a 20 year franchise coupled with freedom from the DfT will magically lead to a higher level of service and greater innovation. Chiltern did it because they were different. Adrian Shooter is a former BR manager who worked with Chris Green in modernising and upgrading the Chiltern network. There is no other TOC with this background or interest.

Franchising is broken. How many more GNERs, NXECs or VTECs do we need before the message gets across? Franchising does not lead to greater innovation in the network, just a 32% rise in regulated fares since 2010. It should be no surprise that a business model used for running buses does not work on the railways.

Give regions the power to decide their own transport needs and run their networks much as TfL does in London.

Round and round we go ? A principle justification for privatisation in the 1990's was to enable access to private investment funding, freeing the railway from dependence on the whims of the Treasury.

Since then, DfT seem to have successively clawed back state control, and hence greater dependence on government capital investment. Privatisation can't deliver its potential for innovation, enterpriise and long term investment under such conditions. The nearest we've come to such delivery is perhaps Chiltern Railways, largely due to its 20 year franchise and consequent freedom of action.

Exploring all funding options is clearly desirable however the question that still requires answering is why the cost of project delivery has multiplied between two & three fold in the twenty years of the privatised railway. As the ORR stands as the arbitrator of the efficient railway when NR's budget is being determined is it not within the capability of their analysts to provide the definitive answer of why the industry cost structure has been allowed to become so bloated. Answers are needed as long fought for investment funds are not delivering anywhere near the improvements that have been over promised for years. 2018 may be a significant year of delivery but even those projects reaching completion are being marred by delay in implementation as witnessed by the meltdown in the timetabling process for May.