Posted 2nd January 2018 | 4 Comments
London Bridge is back in business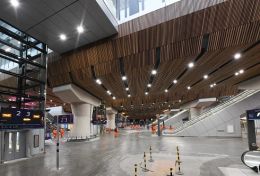 THE last part of the modernised London Bridge station opened at 05.00 today, completing a five-year £1 billion project to improve the station on an unprecedented scale.
The station is London's oldest terminus, but it has changed many times since it opened in 1836. It was rebuilt more than once in the nineteenth century but also needed repairs after it was damaged by bombs in World War 2.
The resulting complex remained inefficient and unattractive until major reconstruction was authorised as part of the Thameslink Programme.
The rebuilding has not gone smoothly all the time, because the work included a major remodelling of track layouts in the area, and at times train services were disrupted. A recast timetable cured some of the worst difficulties, but Cannon Street services will only be able to call at London Bridge once again from today, with the opening of the last five platforms.
Thameslink services have also been diverted away from London Bridge, lengthening journeys between London and East Croydon.
Although the whole concourse and all fifteen platforms are now open, some minor works will continue on the concourse until the spring, said Network Rail, while more retail units will appear over the next few months.
Network Rail chief executive Mark Carne said: "The opening of our landmark station is a shining example of the investment we are making in the railway. I would like to thank passengers for their patience while we transformed London Bridge into the modern transport hub it is today, with more trains to more destinations, connecting north-south London and beyond."
Operators are also relieved that the work is over. Southeastern managing director David Statham said: "Today marks a major milestone in the transformation of London Bridge," while Charles Horton of Govia Thameslink Railway added: "The work at London Bridge paves the way for the reintroduction of Thameslink services at the station and GTR's modernisation of its train services. In May we'll be introducing an exciting, new, expanded Thameslink network."
Reader Comments:
Views expressed in submitted comments are that of the author, and not necessarily shared by Railnews.
Good work from Network Rail. Its like London Bridge now has got a brand new life from being such a dark, overcrowded, dirty and horrible station to a very bright, clean and spacious station in Central London.

Re Thameslink trains I did read that some Thameslink trains will return to London Bridge Station from today but they will not be advertised ( Reminds me if when Southern services were not advertised at Victoria as stopping at Gatwick Airport ) although given how only Thameslink trains use Class 700 trains I can't see the secret lasting very long !

The rebuilding of London Bridge Station demonstrates what is possible in a confined city centre site and hopefully Euston will get as through a rebuilding including Station and approach lines as part of HS2 project.

Shame they're still diverting Thameslink services until May. Only been that way twice and I was wondering how it can possibly take that long for a non-stop train to get out of London.