Posted 29th November 2017 | 4 Comments
Grayling report sets out new vision for rail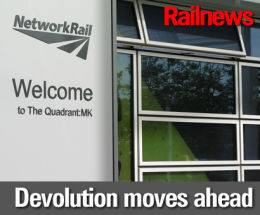 PLANS to reform almost every aspect of the railway industry have been set out by transport secretary Chris Grayling.
In a new report, entitled 'Connecting People: a strategic vision for rail', Mr Grayling's ambitions include further reorganisation of Network Rail as well as more reintegration of track and train, new forms of passenger franchise, boosts for railfreight and the reopening of some lines which were closed by British Rail. However, it is not clear at this stage how reopenings would be funded.
The process of restoring dismantled railways has proved to be long and expensive. The rebuilding of a through route between Oxford and Cambridge has already taken many years and there have been several false starts in the past when work was begun and then paused again. Trains are now expected to return between Bicester and Bletchley in 2021, completing the section between Oxford and Bedford. The link onwards from there to Cambridge is set to follow by the middle of the next decade.
Other routes in Mr Grayling's sights include Henbury and Portishead in the Bristol area as well as Exeter to Okehampton and Bere Alston to Tavistock in Devon. There are similar candidates in many other parts of England.
Network Rail devolution is set to move to a new stage, with the routes becoming the key parts of the business and only a central 'System Operator' remaining to provide national co-ordination. At the same time, there will be further reintegration with train operators.
Franchises are facing a major shakeup. Govia Thameslink Railway is set to be redivided into separate franchises next time round, and Great Western Railway may also be replaced by two or more contracts – such as one for intercity and another for local services. A consultation has been launched, but the present GWR contract could still continue until 2024, FirstGroup said.
The nature of other franchises is also set to change. The report says: "Most future contracts will be shaped around the creation of an alliance structure, with alliance boards overseeing implementation. An overall route perspective will be provided by a route supervisory board including operators, passenger representatives and the Network Rail route."
Route Supervisory Boards have already been announced for East Coast, West Coast and West Midlands, Chiltern and Wales & Borders. Other routes are set to follow suit during the coming year.
The report explains: "Joint working between track and train companies will take different forms tailored to each area, including new joint operational teams, short-term task forces to manage improvement, or longer-term contracts and agreements."
The financial model is also likely to evolve, with some changes to the amount of revenue risk taken by future franchises. The present GTR franchise does not include any revenue risk, but it must meet the costs.
There will continue to be a limited role for open access passenger operators, but the report makes it clear that 'public procurement of train service operations through competitions and contracts will continue to be our central policy', and that open access will not be permitted where it would abstract 'significant' revenue from franchises.
The DfT said it will continue to build on the principles set out in last year's Rail Freight Strategy, and that it is 'working to enable cost-effective options for shifting more freight from road to rail, including using low emission rail freight for deliveries into urban areas'.
In a statement to Parliament today, Mr Grayling said: "We are bringing the organisations that run the tracks and trains closer together to deliver better services for passengers. We are pressing ahead with Network Rail devolution to a series of route based businesses. We are investing in upgrades to the network to deliver faster journey times, more capacity, and unlock growth. We are also improving the customer experience, including smart ticketing."
Both the Labour Party and the RMT remain critical. Labour dismissed the report as 'flimsy re-announcements and unfunded proposals', while Mick Cash of the RMT said: "We have seen no details of this so-called rail plan but it appears that Chris Grayling's answer to the disaster of rail privatisation is yet more privatisation with the creation of a series of local versions of the failed and deadly Railtrack infrastructure model. From what we have heard this lethal plan could well spell the end for Network Rail as a national, strategic and publicly owned body.
"The planned breaking up of Great Western and GTR is a massive admission of failure by the Government but still they rule out the highly popular option of public ownership. That is a scandal."
The Rail Delivery Group, on the other hand, has welcomed the strategy. Chief executive Paul Plummer said: "We are pleased the Government has set out in its strategy a sensible evolution of the partnership railway."
The Campaign for Better Transport approved of plans to restore former railways. The Campaign's chief executive Stephen Joseph said: "Today's announcement is great news for places across the country who were cut off by Dr Beeching, but it is desperately difficult to reopen a rail line. This announcement needs to be backed both with new investment and a commitment to guiding local authorities through the sometimes labyrinthine processes of the railway."
Reader Comments:
Views expressed in submitted comments are that of the author, and not necessarily shared by Railnews.
Has this man ANY idea how to run a Government Department time to wake up and smell the coffee Mr Grayling! most of the lines closed by the evil Doctor have been severed or buried under M-Ways.
And whats is latest brain wave,ending the Virgin/Stagecoach franchise early
saving them Billions in end of Franchise payments brilliant!

The impossibility of "the perfect organisation"has rightly been pointed out already. It does seem, though that the current arrangement of our railway is far from the optimum acheivable.

As far as passenger operations are concerned, is a "one size fits all" approach the best choice? Should disparate kinds of operations (intercity and commuter, for example) have a more "horses for courses" structuring ? After all, in the bus industry, long distance services are under a somewhat different regime to local ones.

What is the best relationship to have between operators and infrastructure, considering the practical need often to host several operators ( passenger and freight ) on many lines ?

How best to constructively utilise competition to further efficiency, innovation and long term investment in the customer interest ?

Just some of the things that perhaps ought to be addressed by our decision - makers.

Some of what comes out of DFT is strange for example they are committed to electrify Bedford to Oxford when it makes sense to defer this to electrify Didcot to Oxford, and Kettering to Leicester to make use of all those new spare trains. Ditto why leave Tavistock to Okehampton unopened when albeit at more cost you could have a useful through route offering resiliance on the most exposed mainline link instead of two branch lines ?
[There is no commitment to electrify Oxford-Bedford in the near future.--Editor.]

So the search for the perfect organisation continues as yet again the deck chairs are rearranged! While all this goes on key decisions will keep on being deferred and the industry will keep on having to absorb transitional costs that add no value to the customer experience.

On a positive note at least there is increasing admittance of the mistake of separating train & track operation. As experienced hands have pointed out since day one of privatisation this was a costly mistake. Too much time & expense has been added to the industry cost base over the privatised years arguing & paying for disruptive compensatory and performance payments that only exist to sustain the dysfunctional structure that was imposed on the industry.