Posted 15th November 2017 | No Comments
Small talk can prevent rail suicides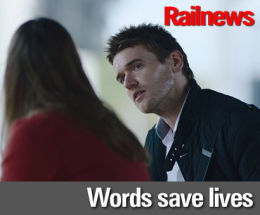 A NEW campaign has been launched in a bid to reduce the number of suicides on railways – and the key life-saving message is that small talk can save a life.
Network Rail, British Transport Police and train operators have launched the campaign in partnership with the Samaritans – the 'listening' charity.
Although more than 16,000 station staff and BTP officers have already been trained by Samaritans to be be alert for ominous behaviour, such as someone staying at the end of a platform for no apparent reason, the new campaign involves passengers for the first time as well.
'Small Talk Saves Lives' asks members of the public to trust their instincts and look out for fellow passengers who might need help, as illustrated in a new film that has gone live today. By highlighting that suicidal thoughts can be temporary and diverted by something as simple as a question, the campaign aims to give railway users the tools to spot a potentially vulnerable person, start a conversation with them, and help save a life.
One example being quoted is that of a Greater Anglia worker who prevented a distressed man from taking his life at a level crossing in Hythe in July last year.
Greater Anglia manager Scott Paton won the Samaritans Lifesaver Award at the National Rail Staff Awards in October 2016 after being nominated by colleagues for his intervention. Scott said: "Last year, I visited Hythe station with a Network Rail colleague when we saw a man on the tracks. I approached him and talked to him until he agreed to move to a safe place.
"Small talk can save lives and I would encourage anyone using the rail network to help keep their fellow passengers safe. If they do not have the confidence to approach them, they are encouraged to speak to a member of staff. Just stopping to talk to someone for a few minutes can make a huge difference and can help to save a life."
Meliha Duymaz, who is Network Rail route managing director for Anglia, said: "Nearly five million journeys are made by train every day and we are asking for passengers to work alongside our staff as the eyes and ears of the railway, helping us to keep everybody safe. If it were your loved one, a daughter or son, husband or wife who was going through an emotional crisis, wouldn't you hope that somebody took the time to stop and ask if they were OK? Even if in doubt, you can always report concerns to a member of staff or a police officer, but please act if your instinct is telling you that something is wrong."