Posted 30th October 2017 | 2 Comments
Industry launches four-point rail boost plan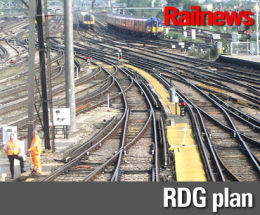 THE Rail Delivery Group, Network Rail and suppliers are launching a 'Partnership for Britain's Prosperity' in London today.
The plan involves four 'commitments for change', which include the strengthening of the railway's contribution to the economy.
However, the RMT union has slammed the new initiative as a 'fantasy'.
RDG chief executive Paul Plummer said: "Today is a landmark coming together. This plan, delivered by a changing partnership railway, will secure the economic benefits from current investment by the public and private sectors, and enable further improvement and investment.
"That's why today, we are making four commitments for change to safeguard our economic contribution whilst delivering the best deal for taxpayers, to improve services for customers, better connect local communities and secure more jobs in rail. This plan will deliver the railway that the economy, customers and communities need as Britain prepares to leave the European Union."
The plan sets out how Britain's public and private 'partnership railway' will secure almost £85 billion of additional economic benefits to the country and enable further improvements.
Apart from strengthening the railway's contribution to the economy, the other three commitments are to increase customer satisfaction, boost local communities through local decisions and investment, and the creation of more jobs, increasing diversity and providing employees with rewarding careers.
Dr Adam Marshall, who is director general of the British Chambers of Commerce, said: "A strong railway network is critical to the success of business communities all across Britain. Rail connects businesses to opportunities, individuals to jobs and freight to customers. Businesses absolutely agree that the public and private sectors need to be working together to deliver better, more reliable rail services now and into the future."
Anthony Smith of passenger watchdog Transport Focus pointed out that "passengers' priorities are reliable, punctual journeys that offer good value for money. They will welcome plans that will help deliver this for them."
Network Rail is also playing a key part. Chief executive Mark Carne said: "Over the next 18 months passengers and communities across the country will see a transformation in the services that they receive. Thousands of new trains will be introduced as the culmination of years of heavy investment in improving our railway comes to fruition, stimulating the economy by delivering new job and housing opportunities.
"Network Rail's transformation is bringing track and train more closely together for the benefit of passengers. This plan will accelerate change and deliver further investment and improvements bringing more improvements for passengers, communities and businesses across Britain now and in the long term."
The RMT has greeted the announcement with cynicism.
The union's general secretary Mick Cash said: "This is just the same old fantasy railway plans and promises of jam tomorrow that the public are sick and tired of. The whole package has been cobbled together to try and divert attention from the fact that the RDG's core business is to prop up the Tory Government and protect the financial interests of the overseas private companies that have been granted a licence to plunder Britain's railways for over two decades.
"This so-called plan for the future has been put together by the very same people who have wrecked Britain's railways since privatisation, condemning passengers to pay the highest fares in Europe to travel on rammed out and unreliable trains in the name of profit."
Reader Comments:
Views expressed in submitted comments are that of the author, and not necessarily shared by Railnews.
I would take Mick Cash's argument over "jam tomorrow" more seriously if he actually came up with a suggestion for jam today. Infrastructure improvements and rolling stock both take years to deliver. I admit it didn't help that until 2014 the Government thought it could deliver everything through electrification + diesel cascade - in hindsight, they should have ordered the new diesels five years earlier - but that's still an improvement on Mick Cash's solution, which seems to be call it British Rail, declare it a success, and pretend crowding and unreliability doesn't matter any more.

Have to say, I do wonder what line he's going to take in the next two years, when all the new trains for the north that he claims don't exist come into service. I'm as sceptical as anyone over this new rail partnership, but anyone who responds by denying the existing improvements are happening is no friend of rail passengers.