Posted 23rd October 2017 | No Comments
Lime Street is back in business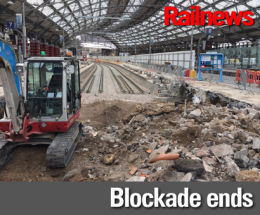 LIVERPOOL Lime Street has reopened today after being largely closed to allow a 23-day Network Rail blockade.
The work has been done to increase capacity, because peak demand at the largest station on Merseyside is expected to have doubled by 2043, with 40,000 passengers then arriving during a typical morning rush hour.
A number of improvements will be seen over the next couple of years. Three additional departures an hour will be scheduled from 2019, including new direct trains to Scotland.
During the closure, which was complete until 9 October when two platforms reopened for St Helens trains, some 2,000m of track was replaced, two new platforms were built and others were re-aligned and extended. Intercity trains have been terminating at Liverpool South Parkway during the blockade, with passengers for the city centre using Merseyrail services to complete their journeys.
Network Rail London North Western route managing director Martin Frobisher said: "Millions of pounds are being invested in the railway in the Liverpool City Region which is vital to boost the local economy and transform train travel for passengers.
"As part of our Great North Rail Project, the Liverpool Lime Street project will enable faster, more frequent and reliable train services to run by 2019.
"This work brings us one step closer to fulfil our aim of running hundreds more trains each day – more trains with more seats, running more quickly and reliably across the north of England."
The upgrade is not quite complete, because further work will take place at Lime Street over Christmas and during next summer. When this is complete, control of signalling in the Lime Street area will have been migrated to the new Rail Operating Centre at Ashburys in Manchester, which was opened in July 2014.
Steve Rotheram, Metro Mayor of the Liverpool City Region, said: "I look forward to next year when we will see the completion of this project which is a pivotal part of our ambitious plans to build a better railway for everyone.
"Alongside this we'll be continuing to make the case for the north to get the infrastructure commitment and funding it deserves, not least full high-speed rail connections west-east, joining up north-south HS2 infrastructure with Northern Powerhouse Rail into Liverpool."