Posted 12th September 2017 | No Comments
Integration stepped up in Wales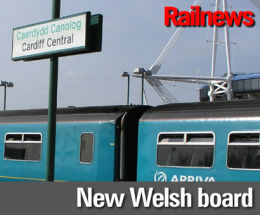 RAILWAYS in Wales have taken a step closer to re-integrating track and train.
A new board has been set up, with members from Network Rail, Arriva Trains Wales, the Welsh Government and passenger groups. It will be meeting for the first time this month.
Network Rail said the Wales Route Supervisory Board would now be working to achieve improvements and 'hold the rail industry to account'.
The board will be chaired by Margaret Llewellyn, whose experience includes tourism, the rail industry and shipping. She is also a non-executive director at Cardiff Airport and a past winner of the Welsh 'woman of the year' award for management achievement. She was awarded an OBE in 2004 for services to the economic development of Wales.
Andy Thomas, route managing director for Network Rail in Wales, said: "This new supervisory board is the next step in our journey to bring track and train closer together. I'm delighted that Margaret Llewellyn will be the independent chair of the board, using her knowledge and experience."
She said: "The supervisory board, by working in partnership with the Welsh Government, Transport for Wales and the rail operators, aims to be the mechanism to create economic growth for both business and tourism throughout Wales. I am delighted to be part of the rail industry's ambition to see a better connected Wales for all."
Ian Bullock, managing director for Arriva Trains Wales, added: "This new board, building on a strong foundation of industry leading right time performance, presents a real opportunity to continue to develop the network for our rail customers and the wider Welsh economy. The board will lead and support important preparation work for the exciting developments and investments to come in 2018 and beyond."
The creation of the new board is the latest step in re-integrating track and trains in Britain. Other examples include the ScotRail Deep Alliance, the Great Westerm Supervisory Board and an 'accord' between Network Rail Anglia and the Greater Anglia franchise, which started last October.