Posted 12th June 2017 | No Comments
Chris Grayling faces new call for safety talks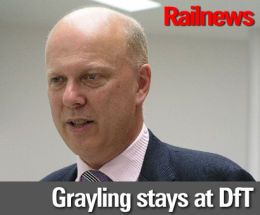 CHRIS Grayling has returned to the cabinet as transport secretary following the General Election.
His name is included in a list issued by No 10 Downing Street yesterday (Sunday), and the announcement has been greeted by an immediate call from the RMT for urgent talks with him over rail 'cuts, safety and services'.
RMT general secretary Mick Cash said: "Despite their protests in the past everyone knows that Government ministers have been calling the shots on the axing of the guards on rail franchises like Southern, Northern and Merseyrail. With no parliamentary majority to hide behind Chris Grayling should be called to account for his actions and RMT wants urgent talks with a reversal of the guards threat, along with the safety-critical cuts at TfL and Network Rail, right at the top of the agenda.
"RMT is sick and tired up ministers ignoring their transport staff and treating the unions like dirt. They have connived to prop up greedy, failing rail companies, doling out austerity cuts that threaten public safety while protecting private profit. Chris Grayling has not lifted a finger to help resolve the guards' disputes to date. The idea that this nonsense can continue after last Thursday is ludicrous."
The Department for Transport said:
"We are investing more than £40 billion in our railways, and our hard-working rail staff are essential to help this vital industry grow.
"Performance on Southern has consistently improved since the new year. Our focus is on making sure passengers keep seeing a reliable and efficient service, and we are investing £300 million to improve resilience on the network. Nearly 60,000 Southern passengers have now taken up a special package of compensation and people using the line are the first in the country to benefit from compensation if their train is more than 15 minutes late."