Posted 5th June 2017 | No Comments
London Bridge reopens after terror attack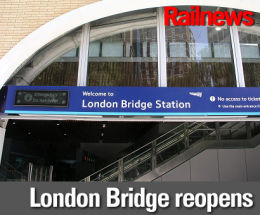 PASSENGERS are using London Bridge again this morning, after the Saturday night terrorist attack in the area in which 10 people died, including the three attackers.
As well as the seven deaths of passers by, another 48 were injured.
London Bridge station was closed throughout Sunday, and originally police said it would reopen at 05.00 this morning, but only for arriving passengers. In the event, the station opened fully and services are back to normal.
There has been praise for a British Transport Police officer who was one of the first on the scene and confronted the attackers before reinforcements could arrive. He was stabbed in the face and seriously injured, but is recovering in hospital.
Chief Constable Paul Crowther said: "Having visited the officer in hospital shortly after he was admitted for treatment, I was able to hear his account of what happened last night.
"It became clear that he showed enormous courage in the face of danger, as did many others who were at the scene and rushed to help.
"Although he is seriously unwell, he was able to recount how he faced the attackers armed only with his baton. For an officer who only joined us less than two years ago, the bravery he showed was outstanding and makes me extremely proud.
"All of us at BTP wish him a swift recovery, and I know he will be touched by the hundreds of messages of support from across the UK and the world.
"Our thoughts are with all of those who died or were injured, and their loved ones as they try to come to terms with what happened."
BTP said patrols by armed police on stations and trains would be continuing. Armed police had started to patrol National Rail trains for the first time after the previous terrorist attack in Manchester on 22 May.
In the wake of the London Bridge attack, police have renewed their appeal for vigilance, saying the threat level from international terrorism to the United Kingdom remains at 'severe', which means another attack is highly likely.