Posted 25th May 2017 | 7 Comments
Eurostar plans Easter launch to Amsterdam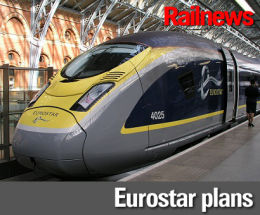 EUROSTAR will launch regular services to Amsterdam next Easter, it has been revealed.
The operator ran the first e320 Siemens Velaro to carry passengers between London and Brussels two days ago, and the event was accompanied by reports that at least two trains a day would be running to Amsterdam before Christmas.
However Eurostar has denied this, saying that although its test trains have been running successfully on the Dutch network, and that these tests will continue, a public launch of regular services is not expected until Easter 2018.
A company source told Railnews: "Driver training has been going well, and the start of e320 services on the Brussels route is certainly a start, but we do not expect to run regular services to the Netherlands until Easter 2018, to coincide with the beginning of the City Break season. An inaugural train to Amsterdam is likely later this year, but we think that will be it until 2018."
The new Eurostar route north of Brussels will serve two major Dutch cities. Rotterdam is the country's business capital, while the real capital Amsterdam is a favourite tourist destination. The journey time from London St Pancras International to Amsterdam Centraal will be under four hours.
Eurostar has indicated that the stopping pattern between Brussels and Amsterdam is not yet set in stone, and there is also the possibility that trains from London could run beyond Amsterdam, perhaps to Utrecht, if there proves to be a business case for an extension.
Reader Comments:
Views expressed in submitted comments are that of the author, and not necessarily shared by Railnews.
I guess the main thing is scanning luggage for illicit devices that may be used cause harm while the train is en route (specifically inside the tunnel), rather than just checking passports. If it were only a question of checking travel documents, that could all be done in the arrivals hall in London, negating the need for the UKBF to have a presence in continental Europe. And if you're already going to be stopping people to check their luggage, you might as well do passport control at the same time.

I think that the immigration checks should be done in transit with the Immigration Officers having it written into their contracts. Other people have mobile conditions e.g. pilots, construction contractors so there's no reason not to require this of Immigration.

Melvyn, not just in movies -- that is of course how cross-border train services work in most of the world, for anyone, not just Jason Bourne :) I took a train from Kiev to Moscow recently and just had a simple passport check on the train.

Seat61 reports that inbound (AMS->LON) passengers will have to detrain, but outbound passengers will work the same way they already do for departures to France and Belgium. Presumably this is because there are already Schengen border checks in St Pancras, so no extra investment is needed, while installing a UK border in Amsterdam was deemed too expensive...

It's great to see Eurostar continuing to expand its destination portfolio. Cities in north-western Germany next on the cards perhaps; Frankfurt, Cologne, Aachen? Also, whatever happened to the plans by Deutsche Bahn to run services from Germany to Brussels and London?

As far as the security checks go, clearly the best option for passengers is having the checks be conducted at each station passengers embark, so as to avoid the hassle of 'detraining' part way through the journey. While installing checkpoints at each station (and presumably financing the UK Border Force and / or local forces in France, the Netherlands and Belgium to have a presence there) may seem like a large financial burden to Eurostar, I wonder if it wouldn't pay for itself over time?

No mid-way detraining for security purposes would make actual journey times faster by 15 minutes or so (at least judging by the Marseille to London via Lille timetable), and more importantly would seem faster and more straightforward in passengers' minds. Both factors should help encourage repeat custom and more regular travellers.

On the other hand, if I were a passenger on one of these new services, either from the south of France or on the 'north of Brussels' route and didn't know about the security detraining in advance, I would probably find it irritating and it would make the journey seem longer and less convenient / seamless in my head, no matter how short and straightforward the authorities attempted to make their checks. And after all, if one of the primary advantages of direct So Fra / NL to UK services is the lack of a need to change trains, having a security check that involves disembarking and queuing up for x-rays halfway through kind of annuls that benefit, doesn't it?

This is not really about Schengen membership. Even if the UK had been part of Schengen there has always been a fear of a terrorist attack on the Channel Tunnel (originally IRA, now more likely IS) and so scanning people and their luggage would still be required.

The choice is then between either stopping at many stations (without scanners) but requiring a scan in Brussels or stopping at only a few stations and installing scanners there. It looks as if the preference is the latter. By non-stopping at Schiphol and Antwerp the only places that need scanners installed are Amsterdam and Rotterdam. That might mean that a scan in Brussels is not required.

While the extension of direct Eurostars to Rotterdam and Amsterdam is welcomed their was talk long before the vote for Brexit of at least returning passengers having to detrain with their luggage for customs and immigration checks thus extenthe return journey and creating a lot of inconvenience mainly at the insistence of the UK Government as we are not part of the Schengan Area.

So , hopefully a way around this can be found given how at least in films we see characters like Jason Bourne boarding trans for Moscow with only a passport check on the train !