Posted 24th May 2017 | No Comments
BTP steps up armed patrols on railways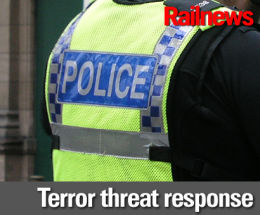 ARMED patrols are being deployed by British Transport Police in response to the terrorist attack in Manchester and the resulting 'critical' warning by the government.
However, BTP's deputy chief constable has urged railway passengers not to be alarmed by the sight of armed officers at stations or on trains.
Deputy Chief Constable Adrian Hanstock said: "Our officers have been given specialist training in counter terrorism policing – including behavioural awareness skills. This means that their day-to-day policing role is keenly focused on keeping passengers and staff as safe as possible.
"Over the coming days, we'll be keeping a close eye to keep you safe, as well as making sure the nation's railways keep functioning as usual.
"I want to take this opportunity to remind everyone to stay calm, be vigilant, and if you spot anything at all which gives you cause for concern, let us know. In light of the dreadful events over these last few days, and last night's increase to the national threat level, nothing should be considered too trivial to report and any information – regardless of whether you feel it is significant or not – may be important to all of us."
BTP added that although the threat level was now 'critical' – meaning that another attack is thought likely – no specific intelligence had been received and that passengers need not fear travelling by train.
The government is also using soldiers to protect key locations, which include larger railway stations in London and elsewhere.