Posted 12th May 2017 | 1 Comment
Network Rail takes next key step towards devolution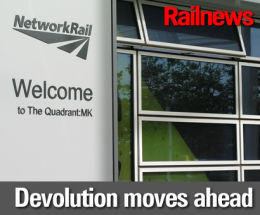 THE organisation of Network Rail is evolving today as the company takes another landmark step towards devolution, which means that nearly all investment decisions will be taken at route level from now on.
The reform, which had been planned well before the election was called, is happening in the wake of the renewed debate about railway ownership which was sparked by the premature publication this week of Labour's manifesto and its plans to renationalise passenger operators, and is also taking place against the background of planning for the next budget period CP6, which starts in April 2019.
As part of today's changes Network Rail, which is already publicly owned, is renaming its Network Operations division 'Route Businesses'.
The company has created nine of these businesses over the past year, including the newly formed Freight and National Passenger Operators route.
Chief executive Mark Carne said: "We have transformed what were operational divisions in Network Rail into integrated businesses, accountable to customers for all aspects of delivery."
Phil Hufton, who has been at the heart of the changeover as managing director, England and Wales, added: "This big change has been the product of lots of separate projects, all with the aim of moving resources, decision-making and delivery closer to customers.
"Renaming 'Network Operations' as 'Route Businesses England and Wales' and 'Network Operations Scotland' to 'Route Business Scotland' describes our devolved organisation more accurately."
The name change will affect a small number of job titles, and references to 'Route Businesses England and Wales' and 'Route Business Scotland' will now start to appear.
Phil added: "This is just the latest example of how Network Rail is transforming. As a practical example of what has changed, eleven central services (and the colleagues managing those services) have been moved across to the routes and Route Services in recent months."
A delegation shakeup in November 2016 moved accountability for investment and expenditure to the routes, and around 98 per cent of all investment decisions will now be taken at route level.
Phil said: "An increasingly commercial role for the routes requires a different leadership structure. We now have chief operating officers appointed, providing an increased focus on operational delivery.
"Other functions, such as business development and sponsorship, are also being strengthened at route level. All round, we're starting to see the benefits in improved performance. In the year ahead, the routes will continue to strengthen their relationships with customers, key stakeholders and communities, benefiting from their new structure and organisations. There will also be changes in Route Services and other central services, all intended to create a stronger national organisation to support the Route Businesses.
"Greater commercial accountability also requires robust governance. Route Supervisory Boards are planned across Network Rail, starting with Western Route, where the new supervisory board is in place and will be meeting regularly to provide guidance, oversight and a valuable external perspective.
"Behind the scenes, we've been strengthening our organisation in the north of England. A managing director, Northern Portfolio, is currently being recruited and will work closely with northern Routes and regional stakeholders."
Reader Comments:
Views expressed in submitted comments are that of the author, and not necessarily shared by Railnews.