Posted 18th April 2017 | 2 Comments
Glasgow Subway expansion plans unveiled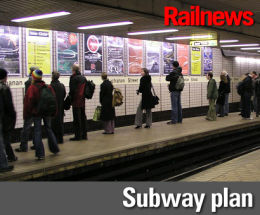 A BOLD plan to add extensions to the circular Glasgow Subway has been unveiled by the Scottish National Party as the May elections approach.
If the SNP wrests control of Glasgow City Council from Labour next month, control of the Subway is set to be transferred from Strathclyde Partnership for Transport to the city council.
Councillor Kenny McLean, who is standing for Partick East-Kelvindale, told The Scotsman: "It is our view that the Subway would be able to contribute more to economic growth in the city and be more responsive to the city's people and visitors if it were controlled by the City Government. We are also confident that more can be done with the Subway to connect communities."
A £288 million plan to upgrade the present system and replace its familiar orange trains is already under way, and he added: "We are also not afraid to build on the ongoing renovation of the Subway. We will look at possible extension and consider innovative funding methods, such as City Bonds, to fund this work. The subway is over 120 years old. It is high time that we look to connect communities in the north and east of Glasgow."
The Subway was opened in 1896 as a cable system and electrified in the 1930s. It has an unusual track gauge of 1220mm.
There have been plans to break out of the original circle in the past. Former SPT chairman Alistair Watson voiced ambitions to enlarge the system ten years ago, when he announced an extension to the east end in time for the Commonwealth Games in 2014, but the project did not go ahead.
Reader Comments:
Views expressed in submitted comments are that of the author, and not necessarily shared by Railnews.
While interested in and supportive of this project in theory, considering the Subway hasn't been extended once in its 120 year history, and there have been quite a few similar plans in the past that went nowhere including the mentioned CG attempt, until something more concrete emerges, I am putting this down to simple electioneering.