Posted 8th April 2017 | 3 Comments
RMT claims 'rock solid' support as strikes go ahead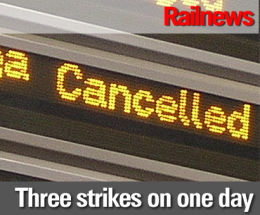 THE RMT is staging three strikes over driver controlled operation on the network today, which are seriously disrupting services on Merseyrail and Northern. The union is also staging its 31st strike on Southern.
The effects of these walkouts varies, but the disruption seems likely to be worse in the north of England. Merseyrail will concentrate on providing trains at 7.5min headways to Aintree for Grand National racegoers, but only on a single flow basis – outwards in the morning and back to the city in the late afternoon and early evening.
On other Merseyrail routes there will be no trains on the Ellesmere Port, New Brighton, Hunts Cross or Kirkby lines and a limited service elsewhere, with a general closedown on all lines between 13.30 and 16.30 approximately. Early morning services before 09.30 will also be cancelled. There will be very few evening trains, and nothing after 21.30.
Northern expects to run about a third of its usual timetable, with bus replacements on some routes. There will be very few trains before 09.00 or after 17.00, and Northern is warning that some stations will have no trains or rail replacement buses.
Southern is more optimistic and expects to run more than 90 per cent of its services because it has already completed the transition to DCO on most routes, in which a second member of staff is normally carried but is not essential in certain circumstances, such as industrial action. Southern passenger services director Angie Doll said: "We're now running a near-normal service on RMT strike days, so fewer people are being affected by the RMT's action. This week, we plan to provide almost our entire normal Saturday timetable."
RMT general secretary Mick Cash said; "RMT can report that support for all three strikes today is rock solid with pickets out in force and morale high as our members on Southern, Northern and Merseyrail continue the fight for rail safety. It is down to all three companies to now get round the table with union negotiators and reach settlements based on the guarantee of a guard and a safe railway for all.
"RMT remains deeply concerned that the companies are winging it on safety by encouraging passengers to turn up to travel on either non-existent services or skeleton operations, staffed by managers and cobbled together as a PR stunt. RMT will be closely monitoring safety issues today."
(Note:— Until now Railnews has used the abbreviation 'DOO', for driver only operation. The industry now increasingly prefers the term 'DCO' – driver controlled operation. Our reports will reflect this from now on, using the term DCO whether a second member of staff, other than a traditional conductor/guard, is carried or not.)
Reader Comments:
Views expressed in submitted comments are that of the author, and not necessarily shared by Railnews.
@Editor. As you rightly say, Railnews is primarily for people working within the rail industry but outsiders like myself can freely post comments on news articles included on the website. However, I often wonder why RMT and ASLEF members have never replied to some of the anti-union comments that have appeared, following the regular stories concerning the on-going dispute at Southern?
[We have had a number of responses from conductors, and most if not all would be members of the RMT. Like you, they are very welcome to express their views on the Railnews site. We do not encourage a conversation between correspondents, though, as this is a news site and not a forum. Even so, it does happen, but we prefer comments about our stories -- not what another poster has said.--Editor.]

I would love to read the Railnews as I am a railfan all my life. I also love to travel by train.
[Thank you for your kind message. Our primary audience is people working in the industry rather than enthusiasts, but everyone is welcome. For more information about receiving a copy each month please visit www.railnews.co.uk/subscription/ --Editor.]