Posted 14th March 2017 | 3 Comments
New Network Rail Alliance for South Eastern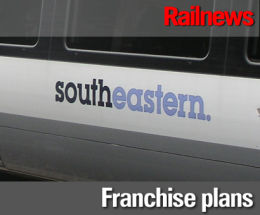 THE Department for Transport has revealed that its policy of achieving greater integration on railways has taken another step.
A consultation paper published about the next South Eastern franchise says: "It is clear, that while Network Rail and the current operator have worked hard to join up their operations, not all their priorities are the same. We need to bring together the operation of track and train on the railway."
Performance on Govia's current Southeastern franchise has suffered over recent years, particularly because of disruption associated with the rebuilding of London Bridge.
The DfT adds: "This new franchise is the right moment to bring things closer together. We are exploring how the train operator can form an integrated operating team with Network Rail, incentivised to deliver the best possible service for passengers."
As a result, the next operator from December 2018 will be required to form an Alliance with Network Rail, while the door has been opened to greater private sector involvement.
The consultation acknowledges that other changes will be needed to deal with constantly rising demand, particularly during peak hours, because 65 per cent of Southeastern's passengers are commuters.
Among the options now being considered are fewer First Class areas on some trains, higher-capacity rolling stock and additional high speed services to St Pancras International starting from Bexhill and Hastings. The consultation concedes that Hastings and London are only around 105km apart 'but direct trains take up to two hours, and speeding up journeys on the existing infrastructure is challenging'.
An alternative on this route could be to terminate Southern's Brighton-Ashford trains at Hastings and transfer Hastings-Ashford services to South Eastern which, the DfT says, could then 'focus on service enhancements including more frequent services, to deliver better connections to London-bound high speed services from Ashford International.'
Smartcard availability will be extended, there will be 'automated' delay compensation and other new connections are also being considered, because of the options which will be offered by Thameslink and the Elizabeth Line. This, for example, will provide a major interchange with the South Eastern network at Abbey Wood.
There are likely to be some exchanges of routes between Thameslink and Southeastern. Thameslink is set to run services between Orpington and Kentish Town or Luton, Maidstone East and Cambridge, and Rainham and Luton via Greenwich. On the other hand, the occasional services to Kent House via Herne Hill and Penge East will be transferred from Thameslink to South Eastern.
Other changes are also on the cards, but the consultation document admits: "There would be a limit to the improvements that could be made to the timetable without also reducing the number of central London stations served from certain locations at particular times. An example might be for all Metro services on the north Kent (between Dartford and Charlton), Greenwich and Bexleyheath lines to terminate at Cannon Street only. We believe that the simplicity of a regular service to a single London terminal throughout the day would benefit both regular and occasional passengers," although it goes on to add that "losing direct connections to particular central London stations has the potential to inconvenience a number of passengers, by requiring them to change their usual journey patterns".
Transport secretary Chris Grayling said: "These transformative plans will require innovative approaches by the rail industry. The train operator will need to form new partnerships to deliver the service passengers expect – for example with organisations with a reputation for excellence in customer service. I will also seek to encourage additional private sector investment in infrastructure development, which could involve faster, more reliable journeys and new commercial, community and residential developments at stations."
The contract will run until at least 2025, and may be extended by a further year.
There is also a clue that other changes are not being ruled out. The document says: "We need a truly sustainable railway, and that means a series of changes to deliver the best possible experience for passengers in the future. It means continuing to deliver a steady programme of improvements and enhancements, looking at ways of expanding the railway further, in an innovative way, harnessing new technology to transform the ways our railways work [and] changing the way the industry works to make sure it meets the needs of passengers. Anything which gets in the way of this should be fixed."
Reader Comments:
Views expressed in submitted comments are that of the author, and not necessarily shared by Railnews.
Southeastern does have enough of their own rolling stocks including:
112 Class 375's "Electrostar", 36 Class 376's "Electrostar", 29 Class 395's "Javelin Highspeed", 147 Class 465's "Networker", 43 Class 466's "Networker" and 23 Class 377/5's "Electrostar" (8 Class 377/5's at with Southeastern with 15 more to be transferred if necessary).

So why does Southeastern need more rolling stock trains.


Faversham is omitted from the map and there is no reference to any speeding up of its Mainline or 'Highspeed' services which are appallingly slow.

This part of North Kent needs regeneration too!

"Hasting and Ashford are only around 105km apart" - really?

NB - sent more than once as I'm getting a daft message - "Did any of the forms contain SPAM"

[You are quite right. That is in fact the distance between Hastings and London. Thank you for the correction, which has now been applied. Sorry about the daft messages as well as the daft distance. As you can see, your message did get through.--Editor.]